Troubleshoot login or GCash app issues
If you can't login or open your GCash app, try these tips first then try reopening your app after a few minutes. Tap on each tip to follow the troubleshooting steps:
Change your network connection
Force close the app in your list of opened apps
Switch on airplane mode for 30 seconds, then turn it off
Connect to a different WiFi network or switch your network connection - If you're using a WiFi connection, switch to mobile data, or if you're connected to mobile data, switch to WiFi
Try reopening the GCash app
Force close and restart the GCash app
Follow the steps below based on your device:
Tap the Recent apps button
Look for GCash and swipe it to the side until it disappears to close the app
Double-press the Home button or swipe up on your home screen 
Look for the GCash screen and swipe up until it disappears to close the app
Clear app cache (Android)
Launch Settings, then go to your App Manager
Tap GCash > Internal Storage
Tap Clear Cache
Update your GCash app to the latest version
You can view your app version when you open the GCash app login and check the bottom of the screen. Then, check the Play Store or App Store if a GCash update is available.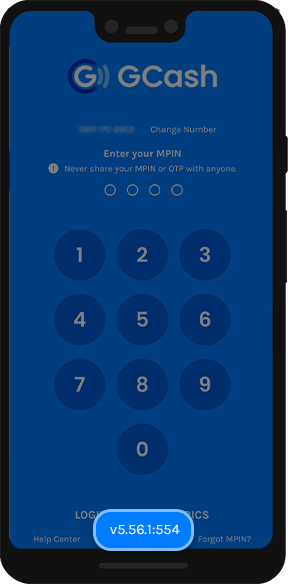 Enable auto-update to automatically install new app updates by following the steps below:
Go to the Play Store and tap Settings from the sidebar menu.
Select Auto-update apps, then select your preferred option:

Over any network to update apps using either WiFi or mobile data.
Over WiFi only to update apps only when connected to WiFi.

 Tap Done.
Go to your device Settings, then tap App Store.
Toggle App Updates under Automatic Downloads. 
Reinstall the GCash app
Uninstall the GCash app and redownload it from the Google Play Store or App Store. You will need to log in again.
Need more help?
Still having problems opening GCash? If you've tried all the steps above and still have an unresponsive app, submit a ticket and select which login error you're experiencing.