GScore is a score that reflects how active you are in using GCash's products and features. Your GScore is unique to your mobile number and cannot be transferred. Your new SIM activities would be the basis for your current GScore.
Jump to:
How GScore is computed
It is the trust rating computed for you based on the various activities you do in GCash such as maintaining an active wallet balance, paying your bills, using GSave, GInvest, and GInsure. Metered scoring is not yet available as no score assures the unlocking of lending products. Our system regularly updates your GScore weekly based on your recent activities, which can be seen in the GCash app.
If you've availed of a product before such as GCredit, GGives, or GLoan, and it becomes unavailable, there may have been certain policies or scoring metrics that you did not meet to qualify for GCredit/GGives/GLoan. Each of the products has its own specific policies in place.
Increase or maintain your GScore
Your GScore is not computed solely based on the frequency of your usage but considers various components to generate your user score. It is based on your frequent GCash activity, maintaining balance, loan performance (early/on-time payments), habitual payment of bills, regular savings and investments, and your purchase of insurance products. 
Verify your account

Fully verified users gain access to a wide range of services in the GCash app. All you need is a Valid ID (not expired) and a selfie.

Read Get Fully Verified to learn how to fully verify your GCash Account

Cash in regularly

Keep a healthy wallet balance and fund your GCash account by cashing in regularly. 

Always use GCash for your transactions
Use GCash services such as Pay Online and Pay Bills
Invest in GInvest frequently

Grow your money for as low as PHP 50 and gain access to the products of the country's most trusted investment companies.

Make GSave deposits regularly

Save for your future with GSave. Grow your savings quickly and enjoy a high interest rate with any amount you deposit.

Purchase GInsure Products

GInsure is the one-stop shop for all your insurance needs. You will find different insurance products like life, health, car, and many more provided by our different partners to best fit your needs. 

*Pay your GCredit, GLoan, and/or GGives dues early or on time
Not paying on time will also make you ineligible for any future credit transactions until you have paid your total amount due
*Maximize your GCredit line
Spend as much as you are allowed by GCredit
*For active GCredit, GGives, and GLoan users
Where to find GScore
Don't know what your GScore is? Here's where you can find and view your GScore: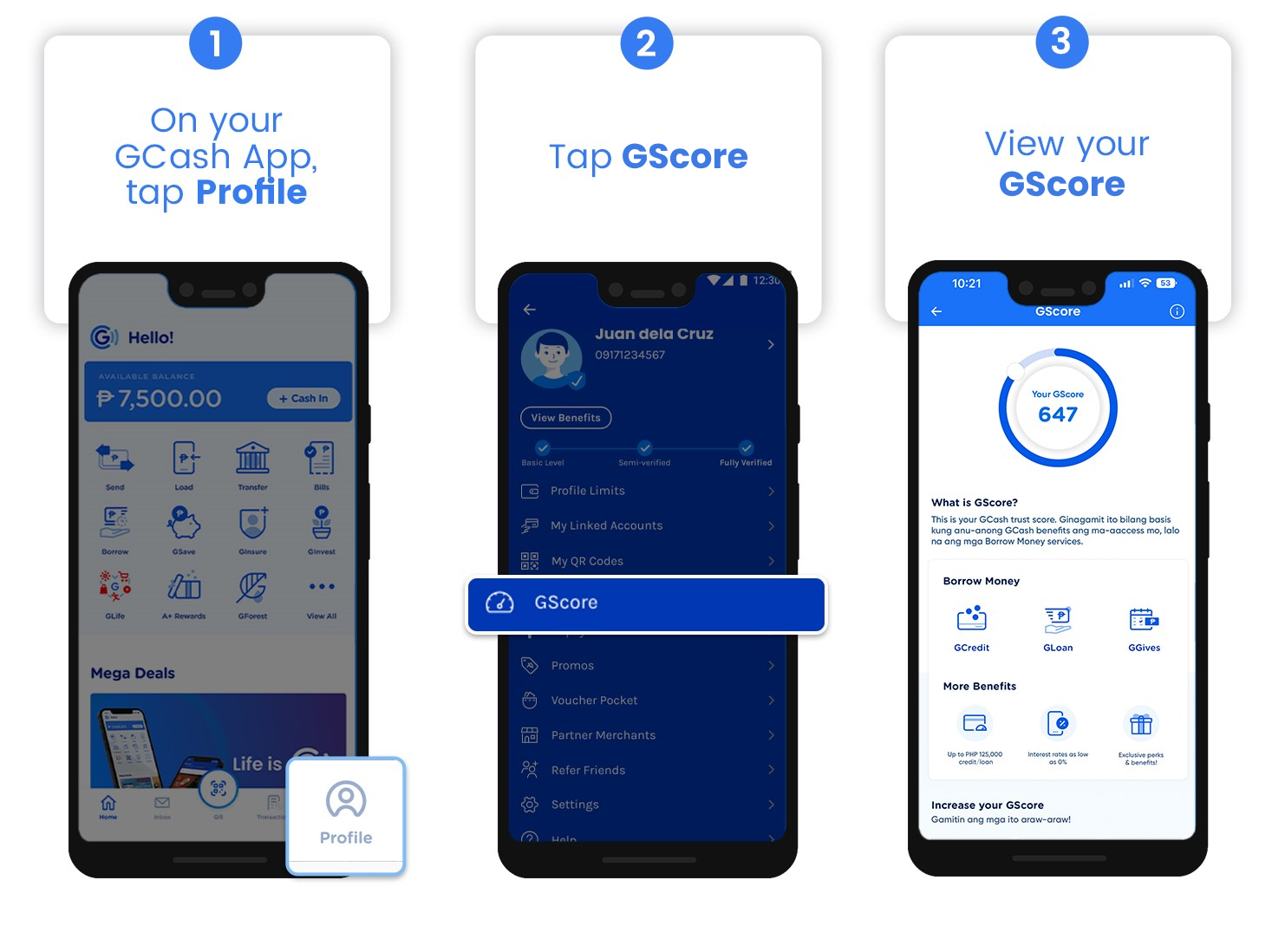 Need more help?
If you have additional concerns about GScore, click here to ask for help and we'd be glad to assist you.