Earn energy and plant trees in GForest
GForest is a feature in the GCash App that gives you the power to help rebuild the Philippine forests by switching to green activities and reducing your carbon footprint. With enough green energy, you can adopt a native tree on your own or with other GCash users.
Learn more about GForest by watching this video:
Jump to:
Earn green energy
You can earn energy when you have successful transactions in the GCash App that help reduce carbon emissions. Examples of this are walking, buying at least PHP 100 load, doing bank transfers, and paying bills.
Here are the GCash transactions that can help you earn energy and their corresponding monthly limits:

| | | |
| --- | --- | --- |
| GCash Transaction | Transaction Limit | Green Energy Points |
| Walking | 20,000 steps (276g) / Day | |
| Buy Load | 30 / Month | 106 Green Energy Points |
| Bank Transfer | 10 / Month | 228 Green Energy Points |
| Pay BIlls | 20 / Month | 253 Green Energy Points |
| Cash-in Online | 10 / Month | 56 Green Energy Points |
| Send Money | 10 / Month | 131 Green Energy Points |
| Save Money - Deposit | 30 / Month | 131 Green Energy Points |
Link your health app to GForest to record your steps and earn more green energy points!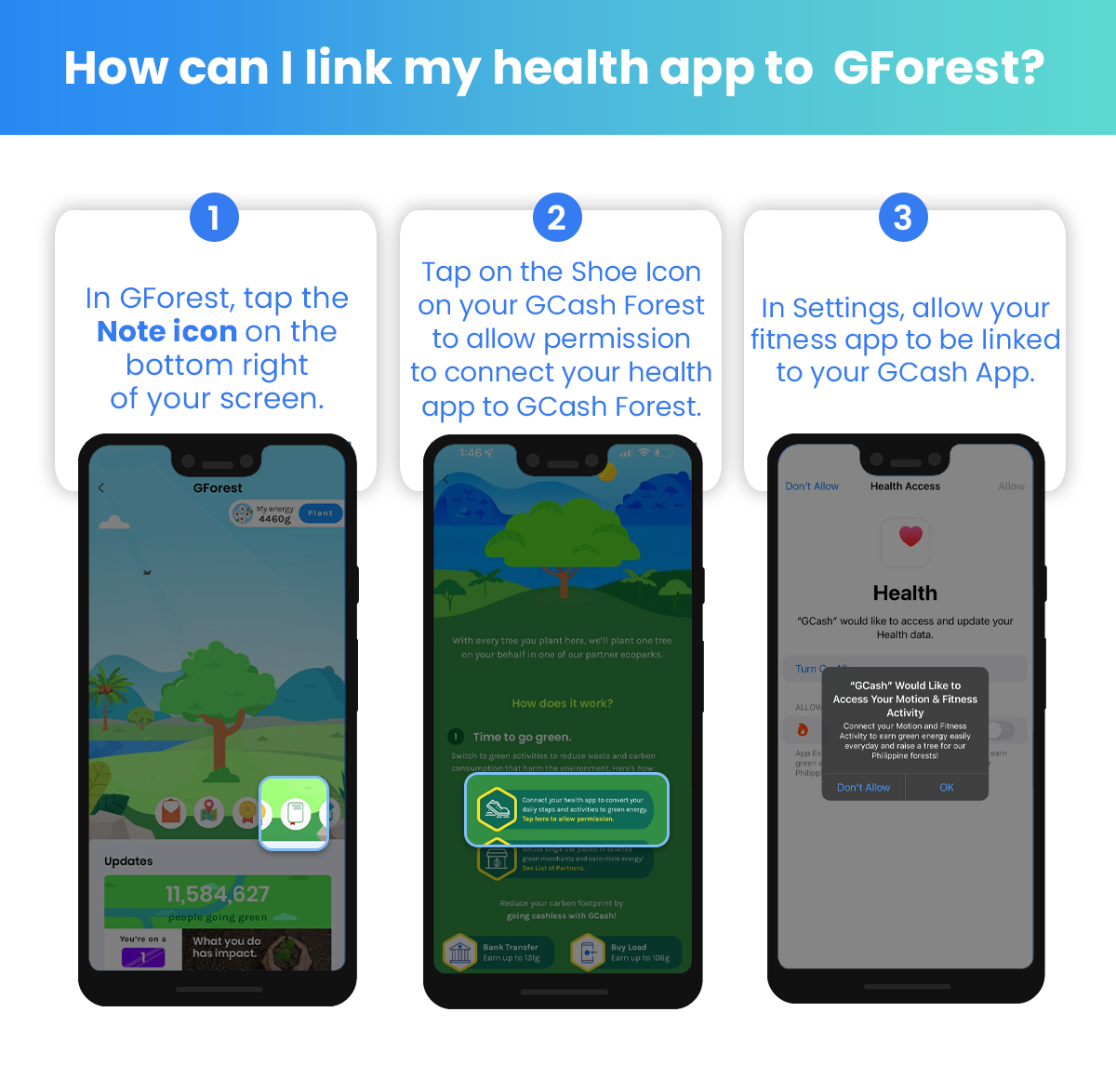 Collect energy
Green energy will be seeded to you within 24 hours after your transaction. To collect, go to GForest then tap the energy bubbles.
You can also collect green energy from your friends. GForest does not allow unfriending of current friends. Let's work with each other in the shared goal of protecting the Philippine environment!
If you are concerned about friends stealing energy, make sure to check GForest 24 hours after your transaction. There is no fixed time for the energy bubbles to appear, but we encourage checking every 6:00 AM-7:00 AM and 11:00 PM-12:00 MN. However, collect the energy as soon as possible as this will disappear after 72 hours.
Plant a native tree
Collect enough green energy points to plant a tree among the options. You can view the type of tree, plant area, and points needed via the GForest page.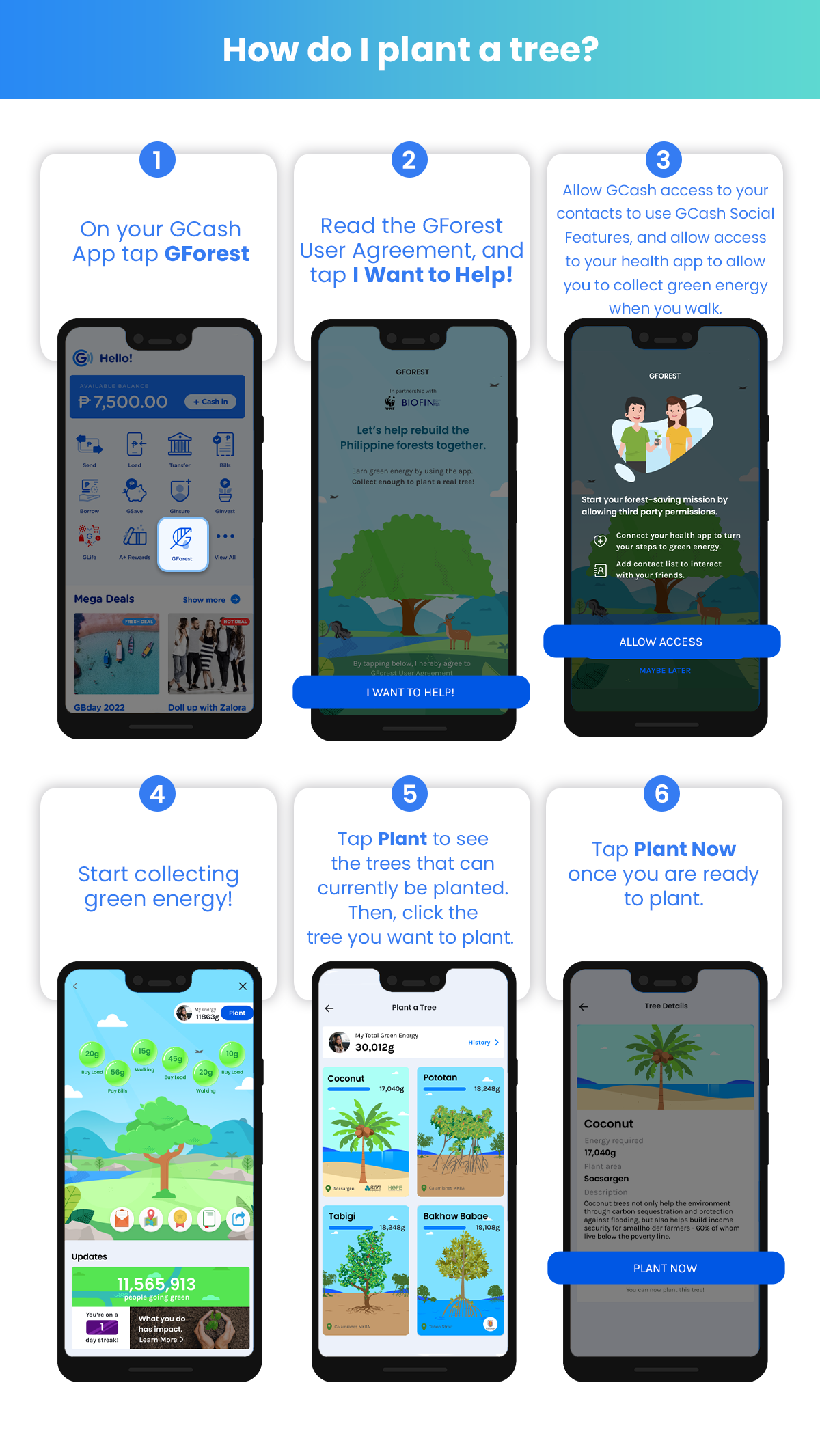 Our GForest partners including Kabang Kalikasan ng Pilipinas Foundation, Inc (WWF-Philippines), Ramon Aboitiz Foundation Inc (RAFI), Ayala Land Inc (ALI), Friends of Hope Inc (HOPE) and Century Pacific Food Inc (Century) will be the organizations coordinating the planting of your tree.
Our partner foundations will directly work with local farming communities to plant the seedlings and monitor their progress.
The timing of the actual tree planting will depend on climate and seasonal factors to help the tree grow in the best environment possible as well as the schedule of the organizations GCash has partnered with.
Need more help?
If you didn't receive energy points after a transaction, please check the following:
Verify if your transaction was successful by checking your Transaction History or GCash App Inbox
Please wait for 24 hours after the transaction for the energy points to reflect
If you haven't received your energy 24 hours after the transaction, submit a ticket here