A Fully Verified GCash Account gives you access to all GCash features and higher wallet and transaction limits. Continue reading below to learn more about the benefits and process to getting your account fully verified.
Jump to:
How to get fully verified
Tap which scenario applies to you to learn how to have your GCash account Fully Verified:
Filipino citizen 18+ years old with PH SIM

Minor (Filipino or Non-Filipino), 7-17 years old with a PH SIM

Foreign National with a PH SIM

GCash Overseas - Filipino residing in a foreign country with a non-PH SIM

Note: We are currently improving our services and are not allowing offline verification via Villarica Pawnshop at the moment.
Requirements for verification
Please prepare a valid government ID to have your GCash account Fully Verified. There may also be additional requirements for minors and foreign nationals. To learn more about the documents or to know if your ID is accepted to process your verification, please visit the list of valid IDs to get fully verified.
Benefits of a fully verified account
Assures the legitimacy of your account because of the submission of personal documents to support the proof of your identity and a selfie scan for enhanced security
Your wallet limit and incoming and outgoing limits will also increase. Learn more about wallet and transaction limits here. Note: Non PH-based SIM card users will have the same wallet and transaction limits as Fully Verified GCash users
Access all features and services of GCash including send money, bank transfers, GSave, and more! Check out the full list below:
Basic
Fully Verified

Cash In
Load
Bills
Pay QR

Send Money
Bank Transfer
GSave
GCash Card 
GInsure
GLoan
GGives
GCredit
GCash Padala
GFunds
GCrypto
GStocks PH
Global GStocks
Tips to get fully verified
For a smooth verification process, make sure that the information you inputted matches your ID, that you submitted complete documents, and that your selfie and ID scans are clear.
Read these tips on how to take proper photos for face and ID verification:
How to take a selfie scan
Avoid selfie scans that are blurred, too dark, or where your face is covered. Here are some tips on how to properly take a selfie: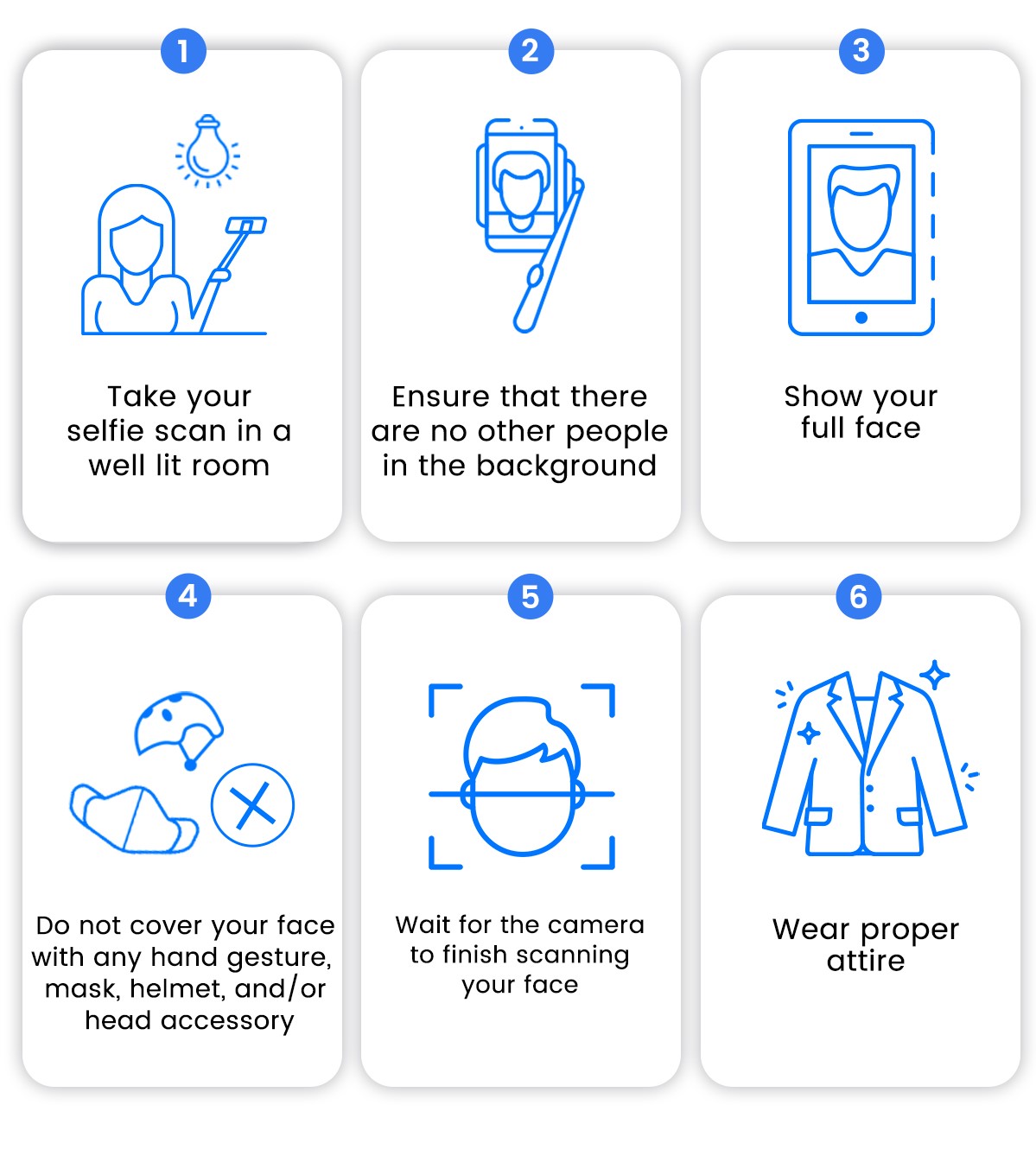 How to take a photo of your chosen ID
Your application may be rejected if the photo of your ID is blurred or cropped, or the ID you submitted was expired or did not accurately match the details you submitted in your application.

Need more help?
If you can't verify your account because you can't proceed in the app or if your application was rejected, please see the possible reasons below and how to troubleshoot them:
Issue
Solution
Too many attempts! / Our system is currently busy. 
You may retry your verification after 24 hours.
Dropdown is not Working

Retry from 11am-1pm or 5pm-7pm daily. You may also follow these tips to fix common app issues

Document Validation Error

Incorrect uploading of documents - The photo of your document may be blurred, cropped, or incorrect
Inaccurate documents - The document you submitted is either expired or did not match the documents you initially submitted
Need to submit additional documents - Your submitted documents did not match the other documents you submitted. You may need to submit additional documents

You have an existing open ticket
This means you have an existing open ticket where you submitted additional documents. Please wait for 24 hours for feedback through your email or the GCash app. On the lower right side of the app, click Profile > Help to view your ticket.
Rejected application
Your verification may have failed due to the quality of the requirements submitted. Make sure that your selfie scan and photo of your ID is clear, bright, and not cropped.
Application is still pending - We're verifying your account
It normally takes 7 working days to process your application, but there may be delays due to an unexpectedly high volume of verification applications. If it is beyond 7 working days, click here to reach out to us.
Error Message
If the error is not on this list, please take a screenshot of the error message you encountered and submit a ticket here.