Scan to Pay via QR Internationally
GCash Pay QR outside the Philippines is available in select countries only and only available for Fully Verified GCash users.
Pay via scanning the Alipay Merchant's QR
You may pay via QR internationally if the merchant is a partner of Alipay+. The conversion rate can be viewed on your receipt page after your transaction.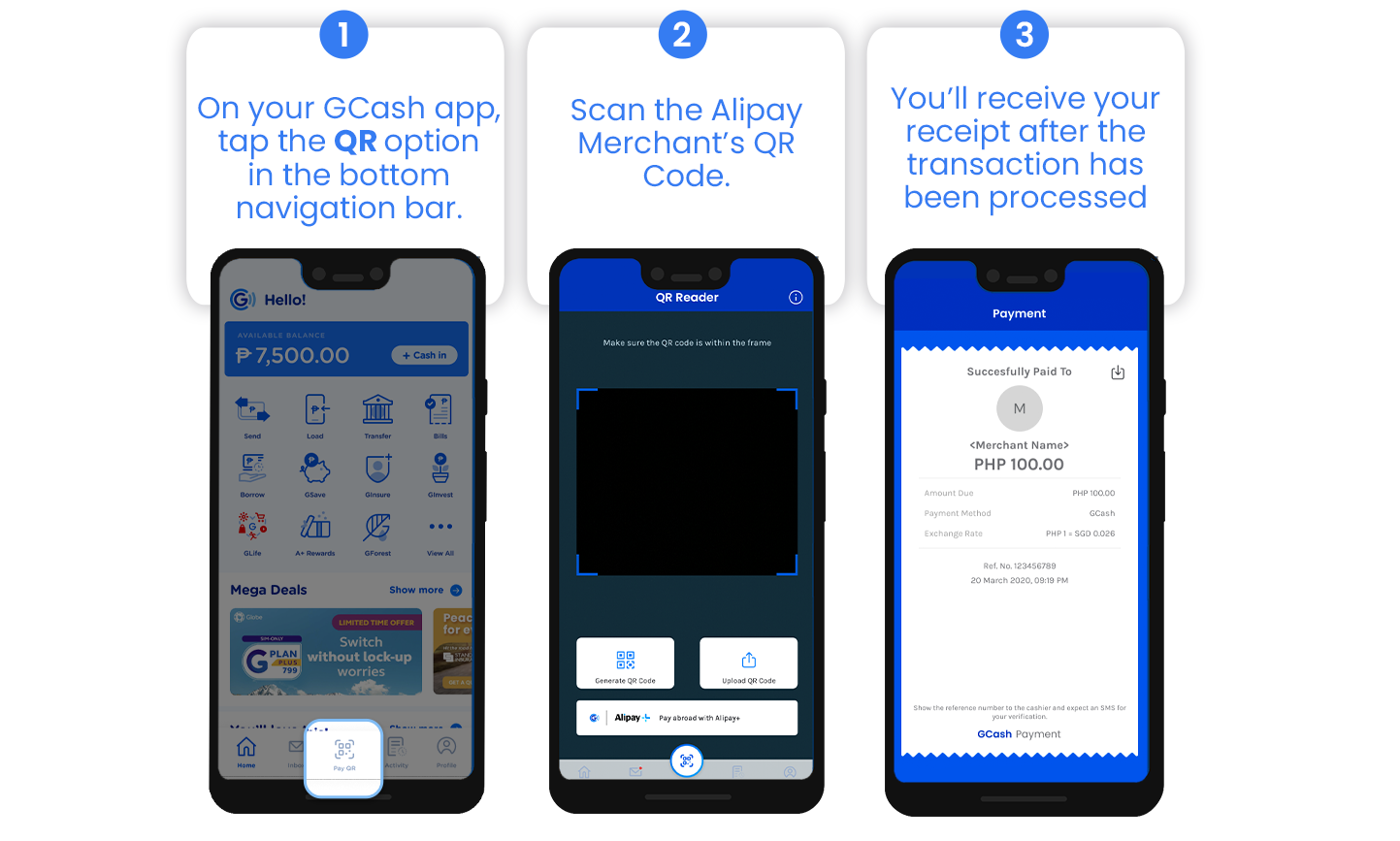 Countries accepting QR payments
Below is the list of countries where you can use scan to pay, as long as the merchant is a partner of Alipay+:
Japan
Singapore (Must be a Filipino GCash user)
Malaysia
South Korea 
United Kingdom 
France 
Italy
Germany 
Australia 
Spain
Qatar
Macao
Hong Kong
Korea
Switzerland
San Marino
Austria
Belgium
Bulgaria
Croatia
Republic of Cyprus
Czech Republic
Denmark
Estonia
Finland
France
Germany
Greece
Hungary
Ireland
Latvia
Lithuania
Luxembourg
Malta
Netherlands
Poland
Portugal
Romania
Slovakia
Slovenia
Sweden
Iceland
Liechtenstein
Norway
United Arab Emirates
Qatar
US
Need more help?
Unable to scan QR
Didn't receive SMS confirmation
Confirm with the cashier if they received a confirmation text with the reference number found in your transaction confirmation.
If you've successfully paid, but the merchant did not receive the SMS confirmation, click here to ask us for help to verify your transaction.
Charged more than once
Merchant didn't receive the payment
If the merchant did not receive the payment or transaction, please ensure that your payment was successful by checking your transaction history. If it is reflected in your transaction history, but still not received by the merchant, click here to ask us for help.