Buy and Sell Philippine stocks via GStocks PH
You can now invest in Philippine stocks in AB Capital Securities, Inc. with GStocks PH!
Note: You can trade any stock actively listed in the Philippine Stock Exchange during PSE Trading Hours (9AM to 12NN, 1PM to 3PM). You cannot place your order through email or through brokers. You can only place an order through ABCSI's Online Trading Facility which will be accessible via GStocks PH.
Jump to:
How to invest via GStocks PH
Buy PH Stocks
Note: For buy orders, your limit will be the amount available in your account balance for buying.
Terms to know before buying GStocks
Limit Order
You may create a Limit Order when you want to set the maximum or minimum price at which you are willing to buy or sell a stock. 
Day Order
Buy or Sell Orders created through GStocks PH are all Day Orders, which means that if they did not match or were not filled during the day's trading session, they will expire. Other order types (i.e. GTC, GTM, GTW) will eventually be available.
Limit Day Order

You set a fixed buy or sell price when you create an order, and your orders expire at the end of the day.

Note: This is the only order type offered at the moment.
To learn how to buy PH Stocks with GStocks PH, follow the steps below: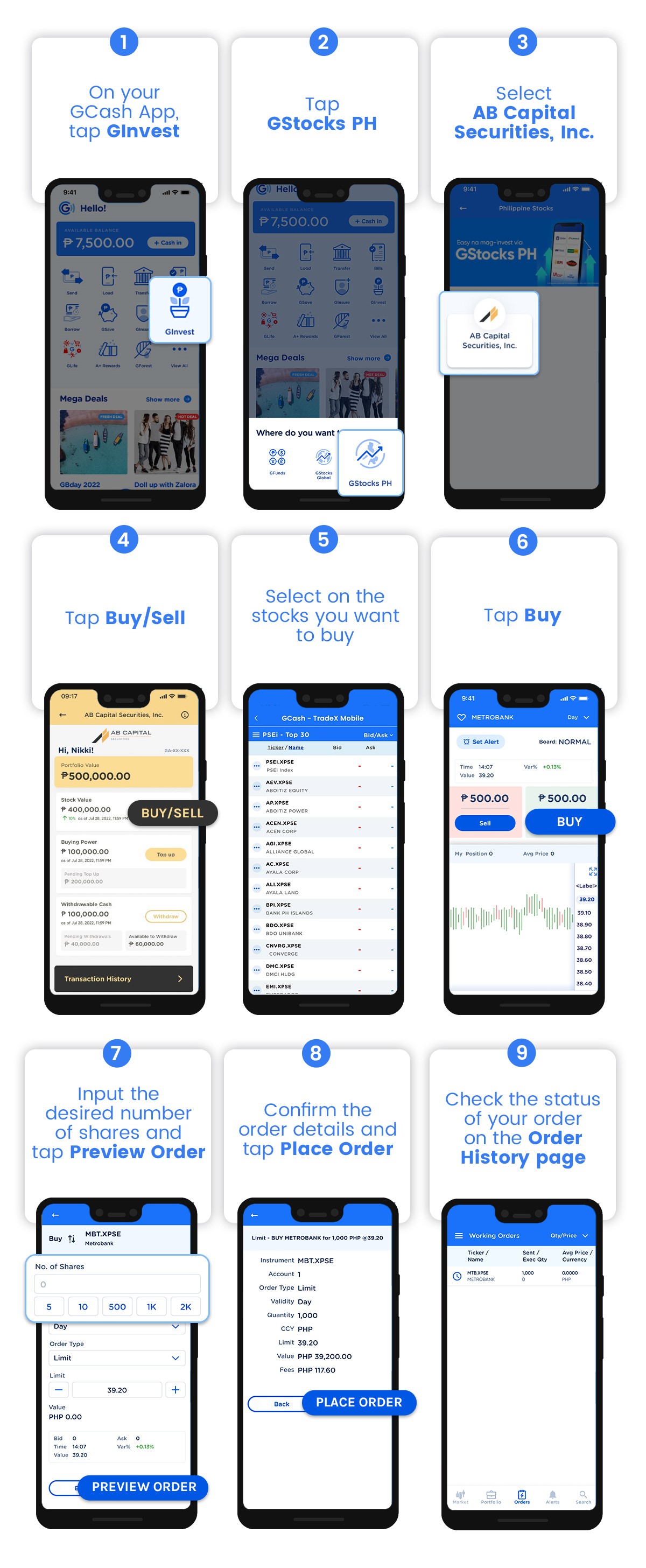 Orders entered electronically are usually posted immediately. However, several factors may affect the execution of your orders:
Delays may occur due to market volatility and high trading volumes. This can result in trade executions at prices significantly different from the quoted price of the stock at the time the order was entered.
The speed of trade executions may also depend on the Internet Service Provider (ISP). Online investors must be aware that ABCSI's Internet service is provided by a third-party ISP. Given this, GCash may not have control over the Internet speed for the transmission of orders. However, it is assured that reasonable care and diligence have been taken by GCash in choosing its ISP.
Timing in the execution of orders may also be affected by market volume, order queues at the PSE, possible delays in order transmissions by your broker, and other systems issues. 
Sell PH Stocks
Note: You can only sell stocks available in your portfolio.
To learn how to sell PH Stocks with GStocks PH, follow the steps below: 

Billing
| | |
| --- | --- |
| Statement of Account | AB Capital will send you a monthly Statement of Account (SOA) at the end of each month via email. |
| Transaction Invoices | AB Capital will send you the invoices of your transactions for the day at the end of each trading day via email. |
| Credit Memos | AB Capital will send you credit memos (CMs) as applicable. |
For any concerns regarding your SOA, Transaction Invoices, and Credit Memos, please reach out to gcashcs@ABCapital.com.ph.
Track your GStocks PH order
Once an order has been submitted and received, its status can be viewed in the "View Orders" page. A message will appear on your screen advising you of the status of your order. Your account records will also be updated accordingly. Possible order symbols and corresponding status are as follows:
| | | |
| --- | --- | --- |
| Order Status | Description | Symbol |
| Completed / Filled  | Order has been successfully completed / filled  | ✓ |
| Rejected / Cancelled | Order has been rejected / cancelled | ✗ |
| Open / Pending | Order is still open and waiting to be completed | ↻ |
| Replaced | Order has been modified (replaced with new open order) | ⇆ |
Modify or cancel your GStocks PH order
Step 1: From the Orders page, tap the order you want to modify
Step 2: Tap Modify
Step 3: Input Revised Order Quantity & Price and tap Preview Order
Step 4: Confirm Revised Details
Note: The replaced order and new active order will reflect in the Orders page.
You can cancel an order anytime within market hours provided that the order has not been fully executed or matched. However, you cannot cancel an order during the pre-open period from 9:15 am to 9:30 am on trading days, during market recess, and during the pre-close period from 2:48 pm to 2:50 pm.
Step 1: From the Orders page, tap
the order you want to cancel

Step 2: Tap
Cancel
Note
: The canceled order will reflect in the Orders page.
Need more help?
Can't access my GStocks PH account
If you can't access GStocks PH, please check the following:
There may be ongoing system maintenance or downtime. Please check the GCash Help Center for any announcements
Please make sure you have a stable network connection
You may follow these steps to troubleshoot common issues if the app is not responding
If you're still experiencing issues and can't open or use GStocks PH, click here to report the error to us so that we can assist you
Unable to proceed with GStocks PH order
You may be unable to select Preview Order due to the minimum quantity of shares you need to purchase. You must add more quantity to reach this minimum amount.
Note: A guide on the Buy screen will let you know what the minimum quantity (in multiples) must be for you to place a Buy Order.
If you are still facing a problem with placing orders, click here to ask us for more help.
What is the minimum quantity for a Buy Order?
The minimum quantity of shares you need to purchase (also called Board Lot) depends on the stock. The minimum change in price is called fluctuation. Ultimately, the Board Lot is affected by the Share Price. Please see the two examples below for more information. There is a guide on the GStocks PH Buy screen to inform you of the minimum quantity required.
Here are some examples:
Example A

Stock Board Lot/ Min. No. of Shares to Buy 

1,000
Share Price
4.19
Fluctuation
0.01

Sample Acceptable Quantity of Shares you can buy

2,000

3,000

4,000

etc

Example B

Stock Board Lot/Min. No. of Shares to Buy 

100
Share Price
9.8
Fluctuation
0.01

Sample Acceptable Quantity of Shares you can buy

2,100

2,200

2,300

etc
Please see the table below for more details: 
Board Lots and Price Fluctuations
Price Range
Fluctuation
Board Lot
0.0001
to
0.0099
0.0001
1,000,000
0.010
to
0.049
0.001
100,000
0.050
to
0.2409
0.001
10,000
0.250
to
0.495
0.005
10,000
0.50
to
4.99
0.01
1,000
5.00
to
9.99
0.01
100
10.00
to
19.98
0.02
100
20.00
to
49.95
0.05
100
50.00
to
99.95
0.05
10
100.00
to
199.90
0.10
10
200.00
to
499.80
0.20
10
500.00
to
999.50
0.50
10
1,000
to
1,999
1.00
5
2,000
to
4,998
2.00
5
5,000
to
UP
5.00
 
Buy or Sell Order did not reflect
For Buy Orders, please check if your buying power is sufficient for the order.
For Sell Orders, please check if your stock portfolio contains the number of shares of stock you want to sell.
For both Buy and Sell Orders:
Please make sure that you follow the applicable Lot Size and Price Fluctuation for your chosen stock as described in the Board Lot table
Please make sure that you submit your trade orders within the correct market hours corresponding to the PSE Trading Hours
Please make sure that you follow the price ceiling and price floor limitations as implemented by PSE
If your order still is not reflecting after checking these, please click here to ask us for help so that we can check on your order
Rejected GStocks PH buy or sell order
If your order was rejected, it may have been one of the following reasons:
| | |
| --- | --- |
| Reason for Rejection | Order History Page |
| No available or insufficient funds in your AB Capital Trading Wallet  | Rejected: Cannot Exceed Limit |
| No stock or insufficient number of shares in your online trading account | Rejected: No Stock Position |
| Placing an order after the market closes, but during the Run-Off Period (2:50 PM-3:00 PM) | Rejected: Invalid Price. Must be at Closing Price |
| Placing an order not in the prescribed board lot | Rejected: Odd/Mixed Lot Orders are not allowed |
| Placing an order at a price that is not at the correct "price tick or fluctuation" | Rejected: Invalid Price Fluctuation |
| Placing an order at a price above the ceiling for a particular stock for that day | Rejected: Invalid Price. Must not exceed ceiling price |
| Placing an order at a price that is below the floor price for a particular stock for that day | Rejected: Invalid Price. Must not be below floor price |
| Canceling an order during the Pre-Open Period (9:15 AM-9:30 AM) | Rejected: Cancellation not allowed during Pre-Open Period |
| As a foreigner, buying stocks which are prohibited to non-Filipino citizens. | Rejected: Not eligible to purchase this stock |