Your billing period, due dates, payment charges, and account details can be found on your GCredit dashboard in the GCash app or on your Statement of Account (SOA).
You may request a copy of your statement here and your SOA will be sent to your GCash-registered email address with the subject line GCredit Billing.
Review your payment details
GCredit Interest Fee
Interest charges will start the day after you make a transaction using GCredit. There will be no interest charges if you pay your GCredit dues within the same day of your transaction. Interest fees for GCredit are dependent on the number of days you borrowed a certain amount. For lower interest charges, pay the full amount as early as possible. The total interest due will reflect in your GCredit Dashboard on your billing date. 
Computation for interest fees: Amount Borrowed x Interest Rate x (# of Days Borrowed / 30 Days)
Please see a sample computation below:
Amount borrowed: PHP 1,000
Interest rate: 5%
Number of days borrowed: 15 days
PHP 1000 x 5% x (15 / 30) = PHP 25 interest fee
Should you have more questions about GCredit interest and fees, you can reach out to us by submitting a ticket here.
Minimum Amount Due
The minimum amount due is the smallest amount that you are required to pay on your billing date. If you pay your minimum amount due on or before your due date, you will not have late payment fees for the current billing cycle and you can continue using GCredit. Otherwise, your GCredit line will be temporarily suspended until you settle your dues.
Note: Any unpaid loan amount will still be charged interest daily until fully repaid. The interest incurred will reflect on the succeeding billing date.
When paying in full, 100% of your credit limit will be replenished. However, if you pay the minimum amount due, only the loan amount paid will be replenished.  
Computation for the minimum amount due: 10% of Unpaid Charges + 100% of interest + 100% of fees (if applicable)
Late Payment Fee
Late Payment fees are charges incurred if you still have outstanding or unpaid GCredit dues after your due date. The fees below are based on how many days have passed since your due date:
| | | |
| --- | --- | --- |
| Days Late | Late Payment Fee | Total Late Payment Fee |
| 1-30 | PHP 200 | PHP 200 |
| 31-60 | PHP 300 | PHP 500 |
| 61-90 | PHP 400 | PHP 900 |
| 90+ | PHP 600 | PHP 1,500 |
GCash does not offer late payment fee waivers. Pay at least your minimum amount due on or before your due date to avoid late payment fees and suspension of your GCredit account.
How to pay GCredit dues
Pay your GCredit dues on or before the due date to avoid incurring late payment fees. You can either pay the full total amount due or the minimum amount due directly through the GCash app.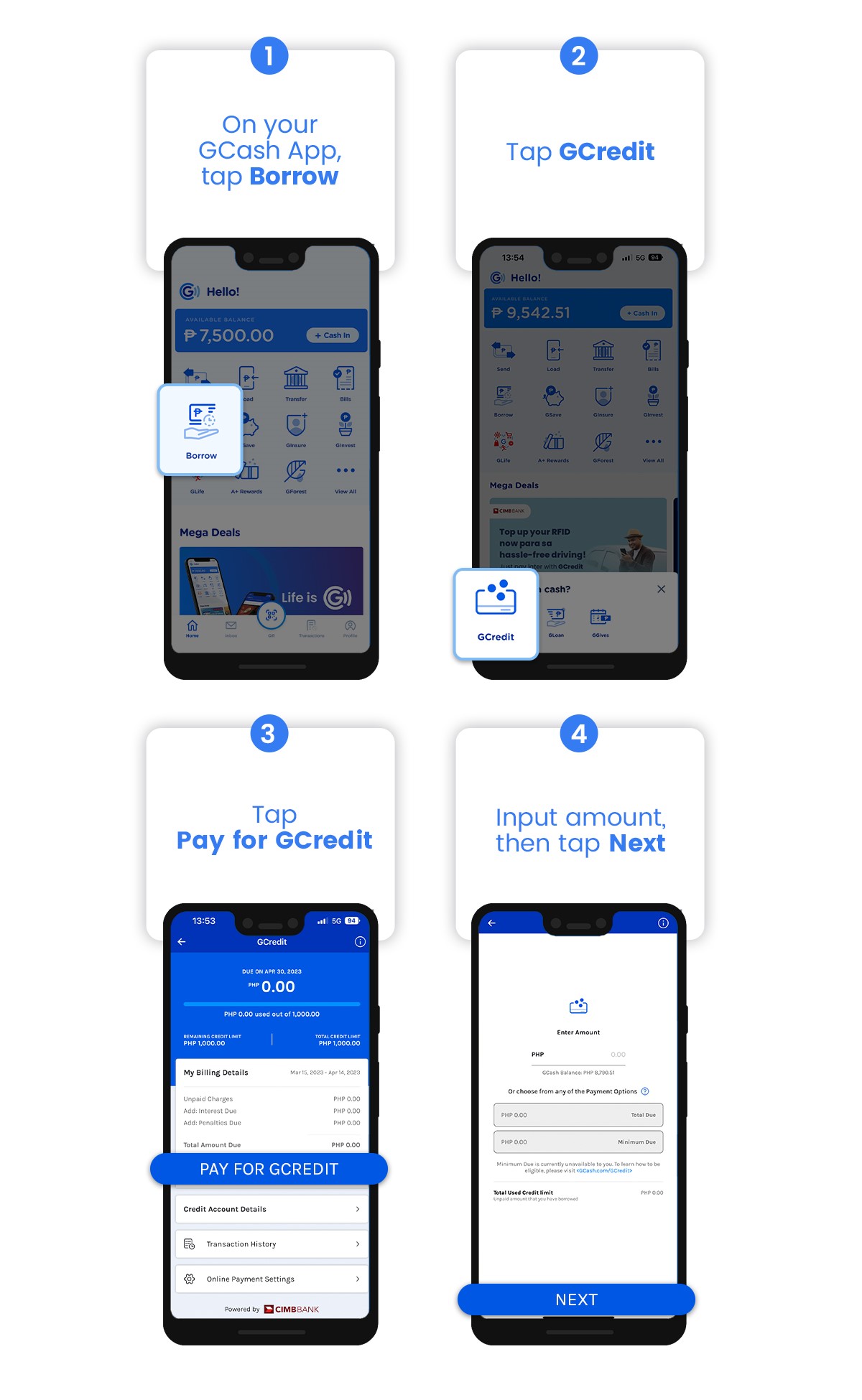 Check your SMS message, GCash app inbox, or GCredit transaction history to view if the payment transaction was successful. You may also request a Certificate of Full Payment here.
Pay through GCash payment partners
You can also pay your GCredit dues via our payment partners. Enter Fuse Lending as the Biller and indicate your Account Number found on your GCredit dashboard. Learn how to pay GCredit dues through our payment partners below:
Payment Partner
Account Number
GLoan/GGives/ GCredit Account Number
GCash Registered Mobile Number
Note: Posting of payments through offline partners will take place 1 business day after the payment has been made. Pay your GCredit dues in advance (before your due date) to avoid incurring late payment charges.
Manage your payments
Settle your dues on time to avoid the following:
Permanent suspension of your GCredit account - Accounts with unpaid dues for more than 90 days from the due date will be permanently revoked. You will need to pay the total borrowed loan amount, total interest incurred, and total fees and you will not be able to reactivate your account.
Lower credit score - Your GCash financial records are shared with other lending or credit enterprises as mandated by the Bangko Sentral ng Pilipinas (BSP). If you do not pay your dues, it may be harder for you to apply for credit/loans in the future.
To help you manage your GCredit payments and avoid additional charges, we have GCredit's auto-deduction feature, payment reminders, and collection agencies. Read more about them below:
Auto-Deduction Feature
With this GCredit feature, we will automatically deduct the minimum amount due from your GCash wallet on the day of your due date. Your GCredit total amount due will cover your total purchases, interest dues, and penalties incurred for your original billing period.
If your GCash wallet does not have enough balance to settle your GCredit minimum amount due, your GCash wallet balance and incoming funds will be auto-deducted. Your incoming funds will continue to be auto-deducted until your GCredit minimum amount due from the original billing period has been settled. When this happens, you will be charged additional fees on your next billing period. 
You will receive a notification after each auto-deduction to your GCash wallet via SMS message, GCash App Inbox, and your GCredit transaction history.

The auto-deduction feature is applied based on the GCredit Terms and Conditions you agreed to when you activated your GCredit account. Visit the GCredit Terms and Conditions to review the Terms and Conditions under 'Repayment'.
Payment Reminders
When you still have unpaid dues from your previous due date, you will receive SMS messages, phone calls, in-app prompts, and email notifications from GCash every 10 days reminding you to pay your dues. 
Collection Agencies
You will also receive phone calls, SMS messages, and emails from collection agencies every day to remind you to pay your unpaid dues until you have settled your unpaid balance.
Agency Name
Office Contact Number
Email Address
SSG (Support Services Group - APAC, Inc.)
(02)7755-6965; (02)8967-0848
jjustiniano@supportservicegroup.co
zreales@supportservicesgroup.co
CNCCSI (Cendana - Neri Credit & Collection Services, Inc.)

(02) 7368-6530 local 57; 0917-6379586

adm.gcash@cnccsi.com

gcashtl@cnccsi.com

M.B.A. (M.B.A. Consulting Philippines, Inc.)
0968-2575022
cimb.dept@ph.mbacgroup.com
RNL (Receivers and Liquidators Inc.)
(02) 8470-4146; 0917-8102176; 0998-5824726
rnlcimb@receiversliquidators.net
RGS RGS Recovery Management and Collection Services, Inc.

(02) 8294-8475; (02) 7719-6410 local 11 & 20; (02) 8294-8475; (02) 7719-6410
0966-5315819; 0927-6055041

rttanon@rgsrecovery.com.ph

rttanon2@rgsrecovery.com.ph

maclan@rgsrecovery.com.ph

Telan Hipe Flores Telan and Associates Co.
(02) 8640-6600 local 1193 & 1015; 0919-0779637; 0917-6322586; 0928-6732730
tl.gcreditrecov@telanlaw.com
tl.gloancuring@telanlaw.com
tl.ggivescuring@telanlaw.com
GSC (Greatsource Corporation)

(02) 8887-7478; 0998-9363482

gmcalungcaguin@greatsourcecorp.com
If you have negative encounters with our collection partners, you may file a report here. Please indicate the date of the encounter, the collection agency's name and their contact number, and attach any screenshots as additional details.
Need more help?
If you're experiencing an issue with a payment to your GCredit account, such as:
Charged multiple times for a payment
Charged late payment fee or additional fee after making a payment on time
Payment is not reflecting
Unable to make a payment
Please submit a ticket here so that we can assist you.
Should you have additional questions about how to pay your GCredit dues, please reach out to us by submitting a ticket so that we can assist you.