Learn how to buy load such as Telco, Broadband, and other Lifestyle below. You may also check out the available load products and their corresponding fees here. 
You can load your mobile number or buy load for another user through the GCash App by following these steps:
On the GCash app, tap Load
Select the type of load you wish to purchase
Input the mobile number you want to load then tap Next
Confirm the details you wish to load are correct then tap Yes, proceed
Select your desired load amount then tap Buy Now
Review the payment details then tap Pay
If your transaction is successful, a receipt will be shown to confirm your payment.
Need more help?
Unable to buy load
If you can't buy load, try the following steps to troubleshoot:
Did not receive load
If you made a purchase but did not receive the load, please check the following:
Check your network signal and make sure you have a stable connection
Review if the transaction is reflected in your Transaction History
Check if you inputted the correct mobile number
Check if you received an SMS confirmation from GCash. Please wait up to 5 minutes to receive the SMS confirmation of your purchase
If the transaction was successful but you didn't get the load, click here to ask us for more help
Received incorrect load credit
GCash cannot reverse any load transactions due to the wrong information inputted. Make sure to double-check the load product, amount, and recipient's number before confirming your purchase. 
If you received an incorrect load credit than the amount you purchased, please submit a ticket here.
Charged more than once for a purchase
You may have been charged twice for one transaction due to the following:
Bought load during provider downtime - You will be automatically refunded for your purchase within 2 working days. An SMS notification will be sent to confirm this. If you can't wait for the automatic refund within 2 days, click here to file a request for refund
Bought load twice - If you accidentally bought load twice, GCash will be unable to refund your transaction if your purchase has been completed. Here are some steps you can take to ensure your transaction won't purchase load twice:

Wait up to 5 minutes for your Buy Load transaction to be fully processed
Check your remaining GCash balance
Review if the transaction is reflected in your Transaction History
E-PIN bought was invalid
Bought incorrect load details
If you bought the wrong load amount or inputted the wrong mobile number, unfortunately, the transaction cannot be reversed once the Buy Load purchase is completed or successful.
Here are some tips you can take to ensure you are buying load for the right mobile number:
Note: If your recipient is in your phone's contacts, tap the phonebook icon on the Buy Load page and select the contact you wish to buy load for. This will automatically enter their mobile number in-app.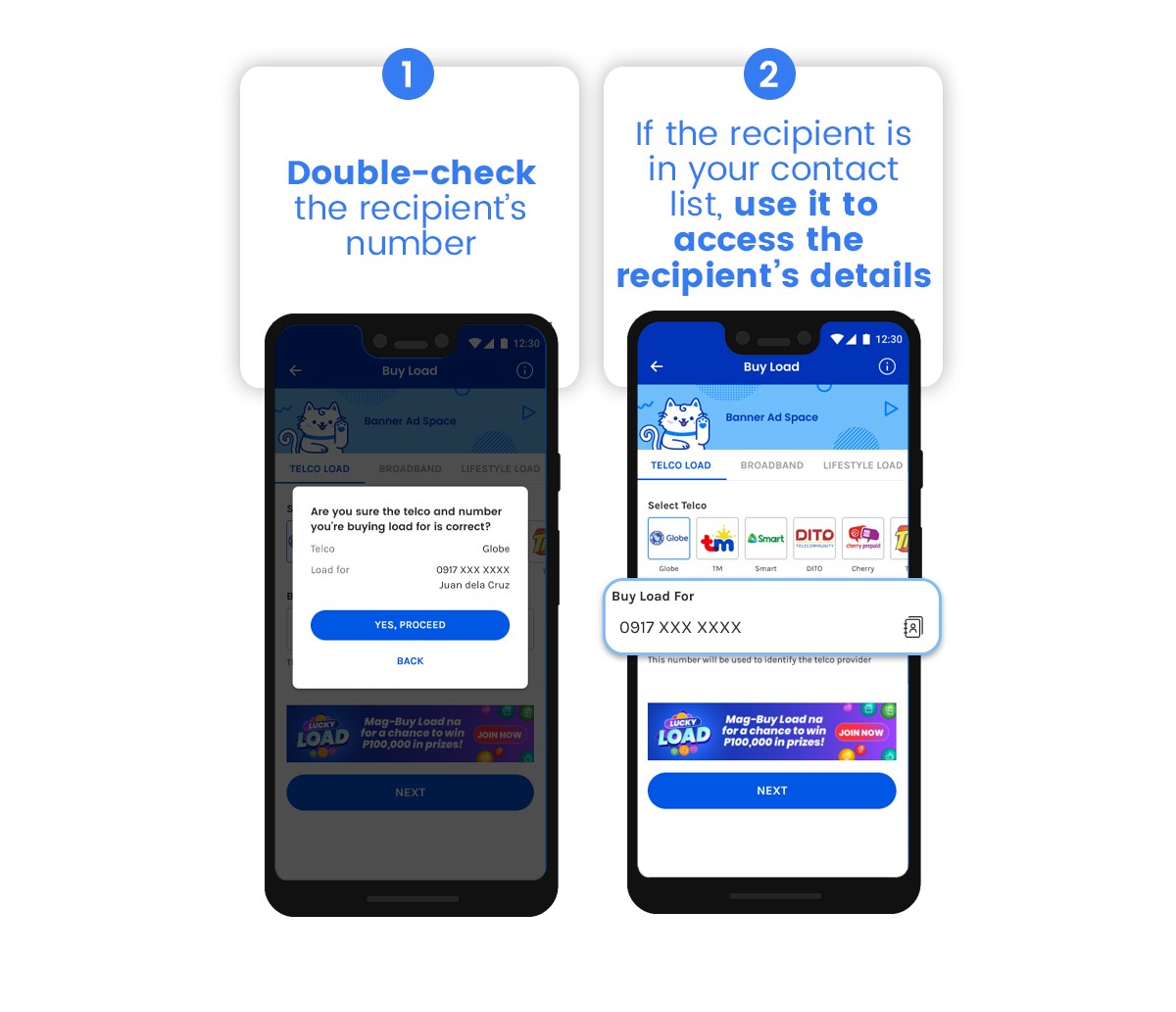 Didn't receive SMS confirmation