To keep your account safe, be aware of the common forms of scams such as:
Phishing - When personal information or data is stolen
Swindling - When money is stolen from another person
Learn more about these scams and how to keep your account safe from scammers:
Swindling
Swindling happens when a scammer tricks you into making a GCash transaction but will not fulfill the expected service, delivery, or purpose of the transaction. A swindler can be a buyer or a seller with an intention to steal money from another person.
Commons forms of swindling are:
Fake Online sellers
Fake sellers create social media pages and websites using stolen logos and images.
Here are some tips on how to spot fake sellers:
Fake online sellers have little to no account history because they create new accounts to continue their scamming activity even if they have been reported and blocked in the past.
TIP: When buying through a Facebook page, check the page transparency to see when the page was created.
STEP 1: Go to the Facebook Page of the Online Seller you wish to buy from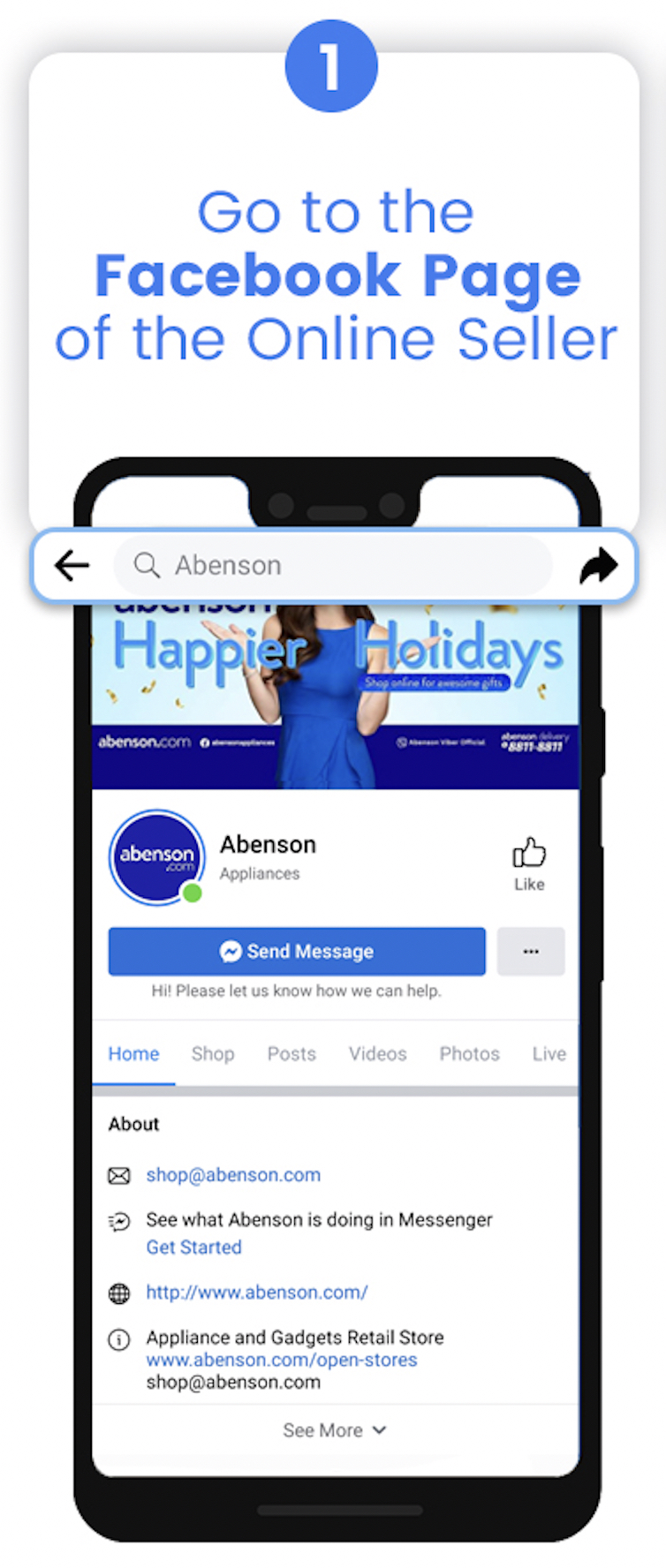 STEP 2: Tap See All under Page Transparency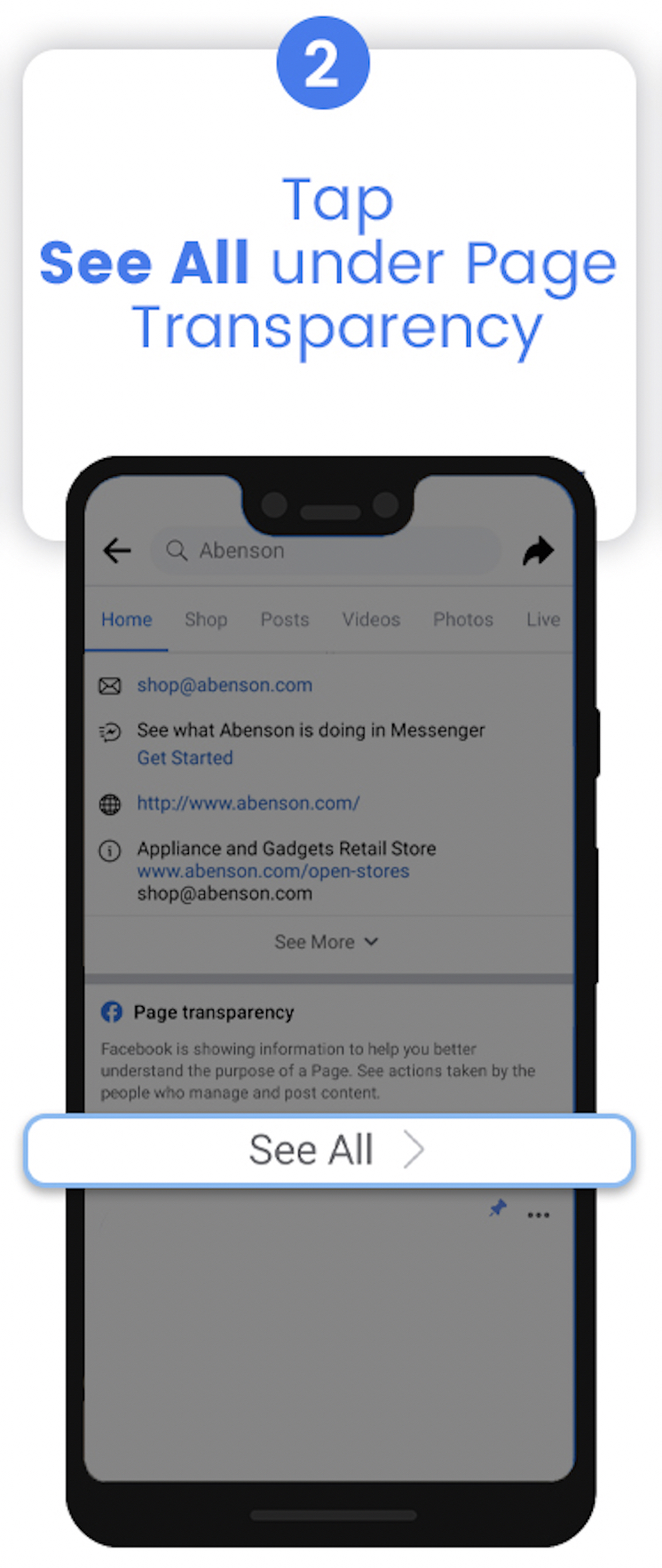 STEP 3: Check Page History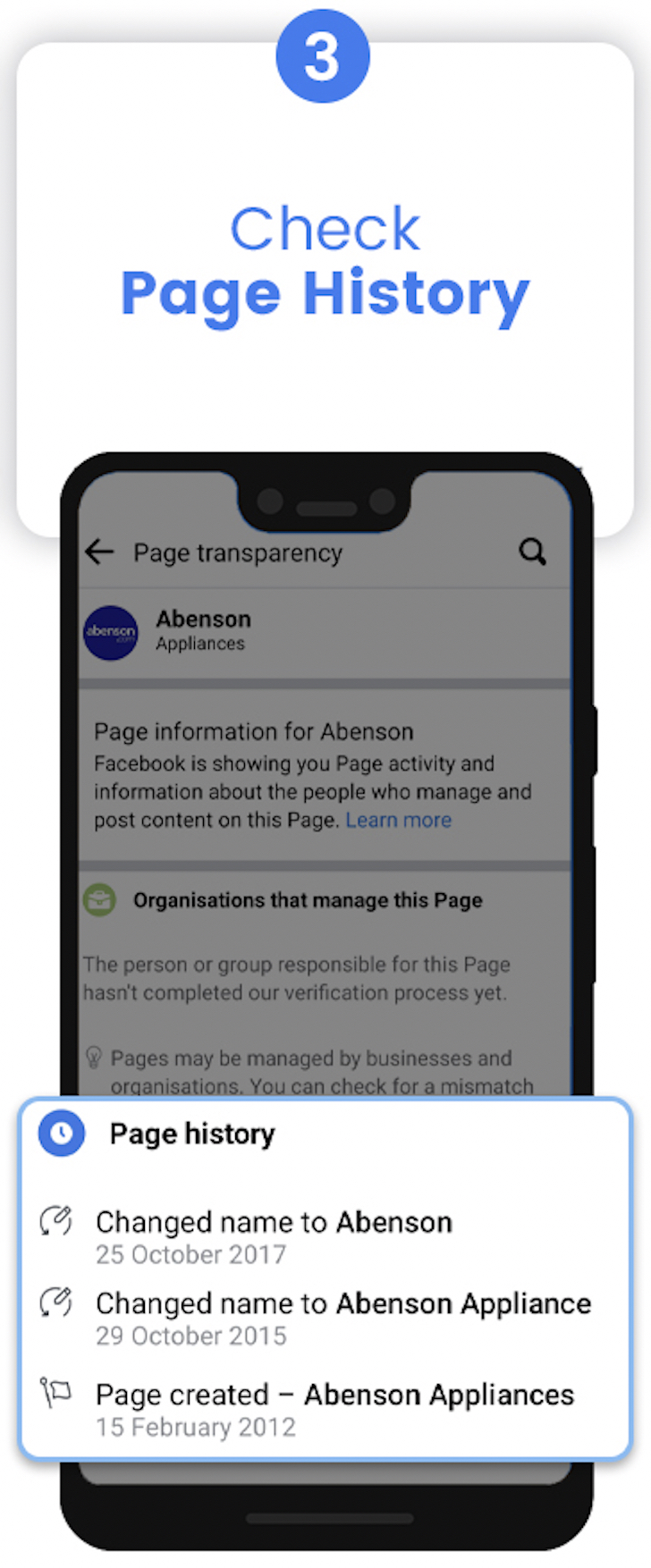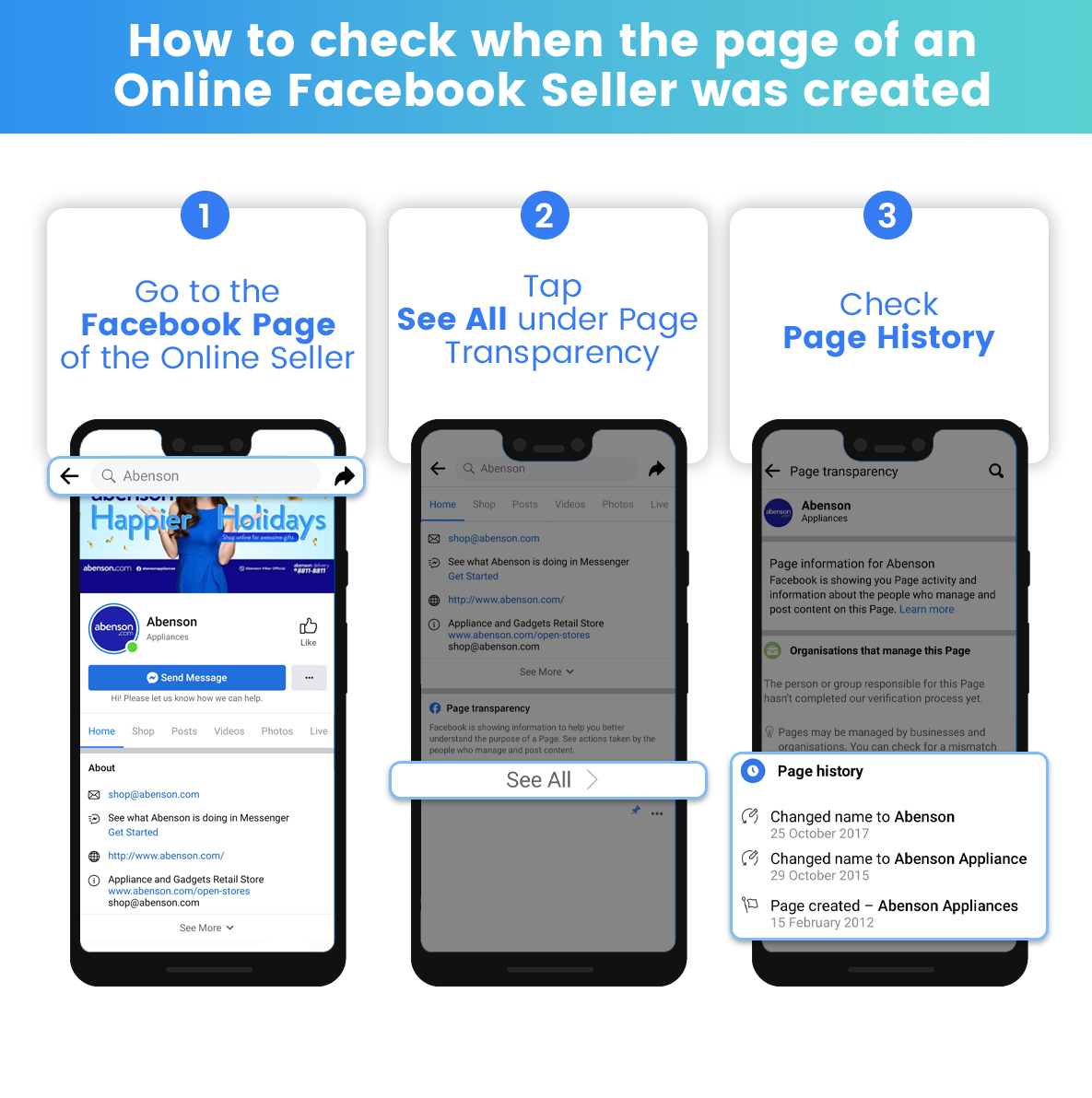 Fake sellers sell their products at very low prices VS the average market price. When in doubt, check the price with at least two more sellers selling the same product, and buy within the average market price.
Fake sellers insist on immediate full payment. Check the payment terms of the seller, and when possible, transact with those that give you the option to pay after the product or service is rendered.
How to prevent being a victim of fake sellers before making a transaction
Prevention is always the best way to protect yourself. Here are some tips on how to avoid being a victim of fake sellers before making a transaction:
Read seller reviews and check the following:

Dates on when the reviews were posted. If the reviews were created over a short period of time, these are fake reviews to immediately increase the seller's rating
Contains gibberish words or special characters. When this happens, this is a sign that the reviews were created by a bot
Profile of the users commenting. When there are generic names such as Juan Dela Cruz, John Doe, and Jane Smith or just contain numbers and letters, this means that these are fake accounts making fake reviews

If you are transacting with the seller on Facebook, search about the seller. Victims of fake sellers usually post about their experiences to warn potential victims.
STEP 1: Type the name of the seller or Facebook page on the search bar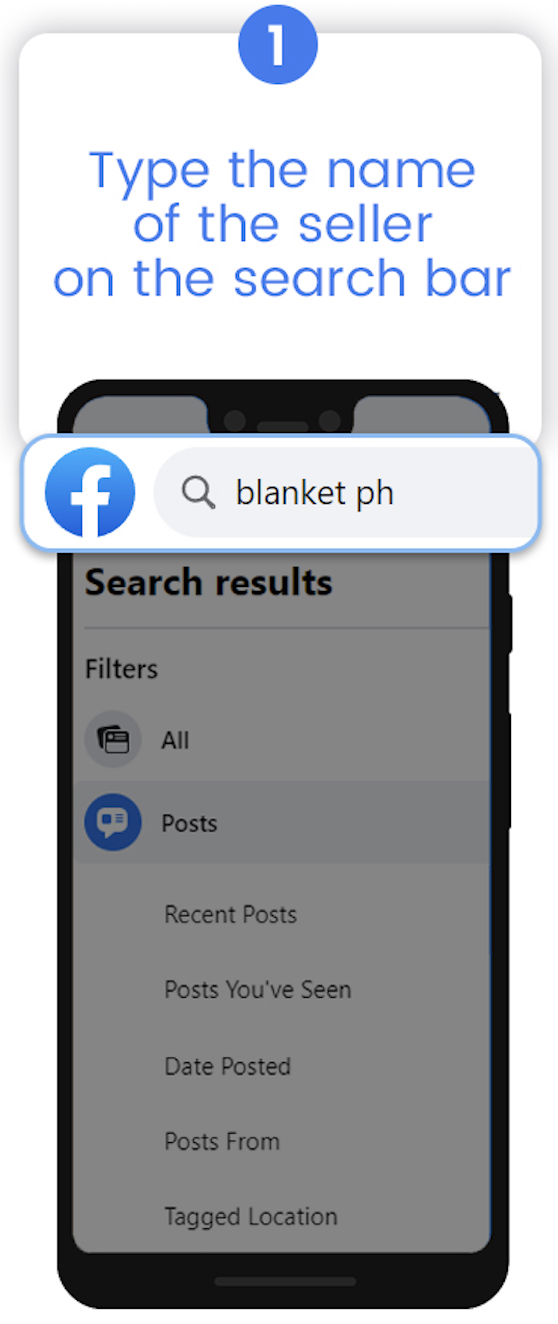 STEP 2: Tap Posts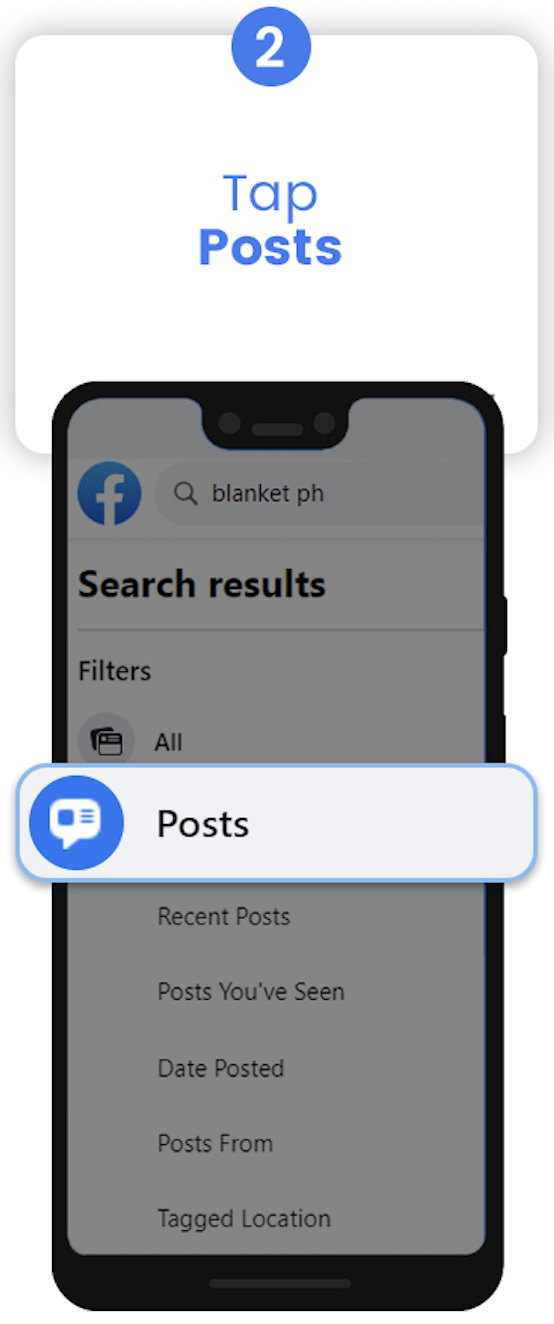 STEP 3: Check if there are posts by previous victims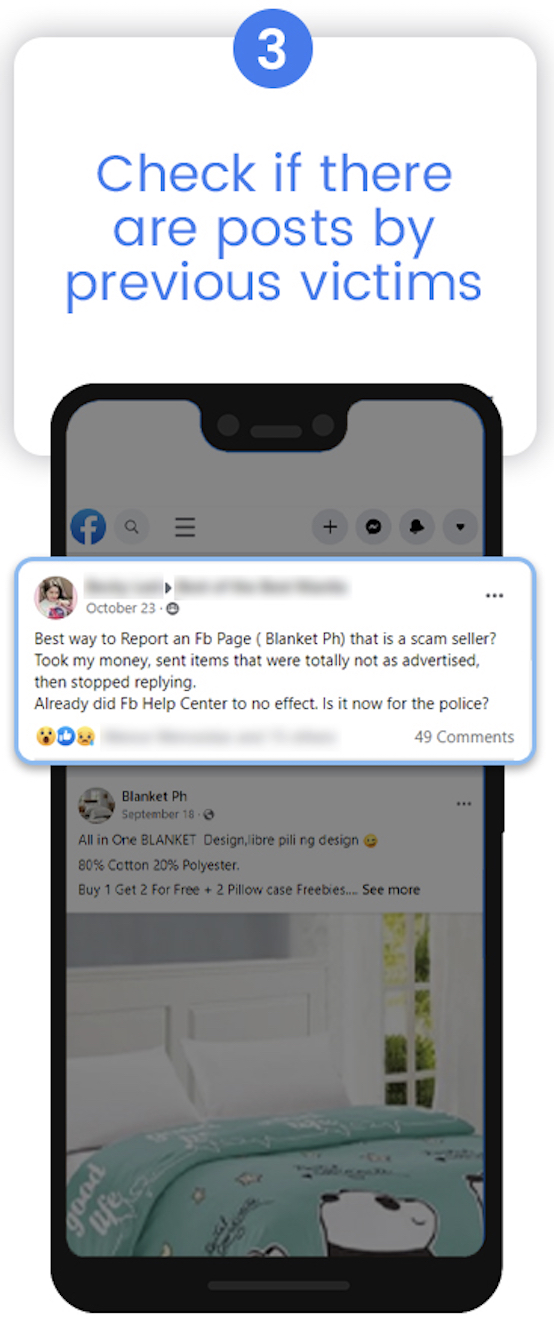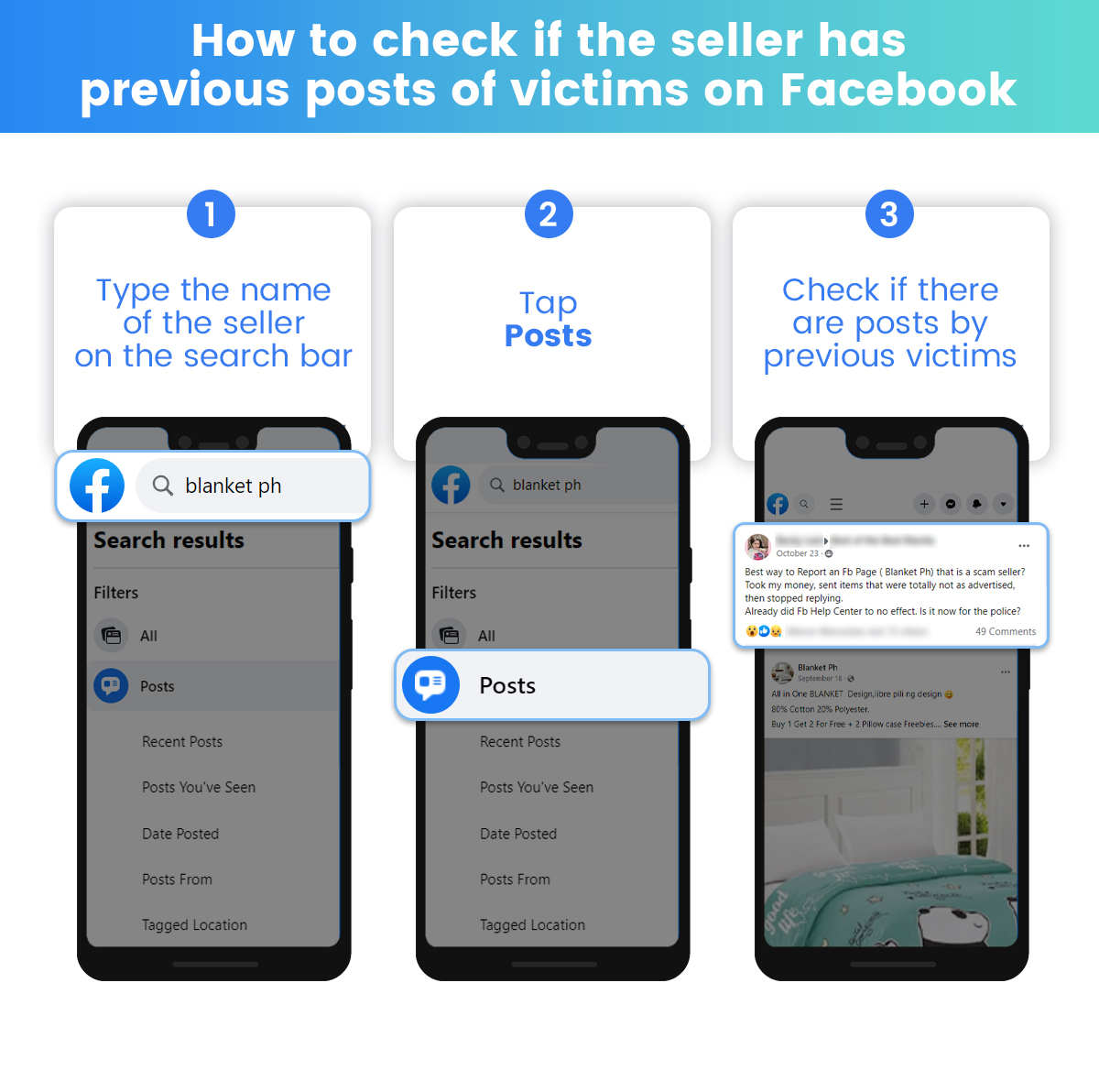 Know the payment terms. Transact with sellers that allow post-delivery payment.
Never share your MPIN or OTP. A seller asking you to provide these details is a sign that the transaction is a scam
How to prevent being a victim of fake sellers after making a transaction
After making a transaction, to be sure you are protected here are the important steps to take
Always take a screenshot of the payment transaction as proof of your payment
Prior to the delivery:

Ask the seller to provide a picture of the item in real-time
Ask the seller for a picture of the item before it's given to the courier
Ask the seller for courier details as well as the tracking number
Ask the seller for their contact details

Ask for an official or acknowledgment receipt when possible
Hacked accounts
Some swindlers hack accounts of people and tap into their contacts to try to ask for money while disguising themselves as the account owner.
Here are some tips on how to spot if your friends and family members accounts have been hacked:
They are asking for money
They are talking to you in a different tone. Check your past conversations if this is really how they talk to you
They are talking to you on a social media channel that you don't usually use
When in doubt, DON'T SEND MONEY RIGHT AWAY. Check to validate if you are talking to your friend or family:
Contact the person by calling or through a different channel. Ask your friend or relative directly if they messaged you asking for help.
Check where they are asking you to send the money to. Hackers will ask you to send money to an account different from your friend or family member's account.
How to avoid being a victim of hacked accounts
Don't be a victim of hacking! Here are some tips to avoid having your social media account from being hacked:
Don't click on links unless you are sure it is safe. Hackers may send links to you to get your personal information. Verify a website's security by doing the following:

Check if the site uses https://, this means that the website employs a form of encryption to transfer data


Check if there is a padlock icon beside the website's browser address

Double-check if the URL is spelled correctly. Hackers may use URL's such as yah00.com instead of yahoo.com to trick you into giving them your information

Use a website security checker such as Google Safe Browsing to verify a site's legitimacy and reputation.
Do a security checkup of your accounts
Update your password regularly.
Log in to your social media accounts only on the devices that you own

Always log out of your accounts after using
Enable Two Factor Authentication. Two Factor Authentication is an extra layer of protection of accounts on top of your username and password because you need to provide another piece of information such as a code, or your biometrics before being able to login. Go to the Help Center of your accounts to check how to enable this.

Never share your personal information such as your address, phone number, and email address. Use the inbox of the social media accounts to communicate with other users.
Never share your sensitive personal information such as your race, religion, or political views. Doing this will make it easier for scammers to steal your identity.
Fake donations
Swindling can also happen through fake calls for donations. Scammers will send generic messages asking for money and ask you to send the donation to an unknown account.
How to avoid donating to fake organizations
Here are some tips to avoid donating to fake organizations:
Donate only through official payment channels such as GCash. Avoid sending donations to personal accounts
Transact with trusted organizations only. GCash has a list of trusted partner beneficiaries where you can donate to charity or organizations of your choice. This list includes partner organizations of GCash that have been active in donation drives.
Login to the GCash app, select Pay Bills, and click Others > #GCashGivesBack to see the partner beneficiaries of GCash
How do I report swindling?
Follow these steps if you think you've been a victim of swindling:
STEP 1: File a ticket on the GCash Help Center. A GCash representative will contact you within the next 24 hours.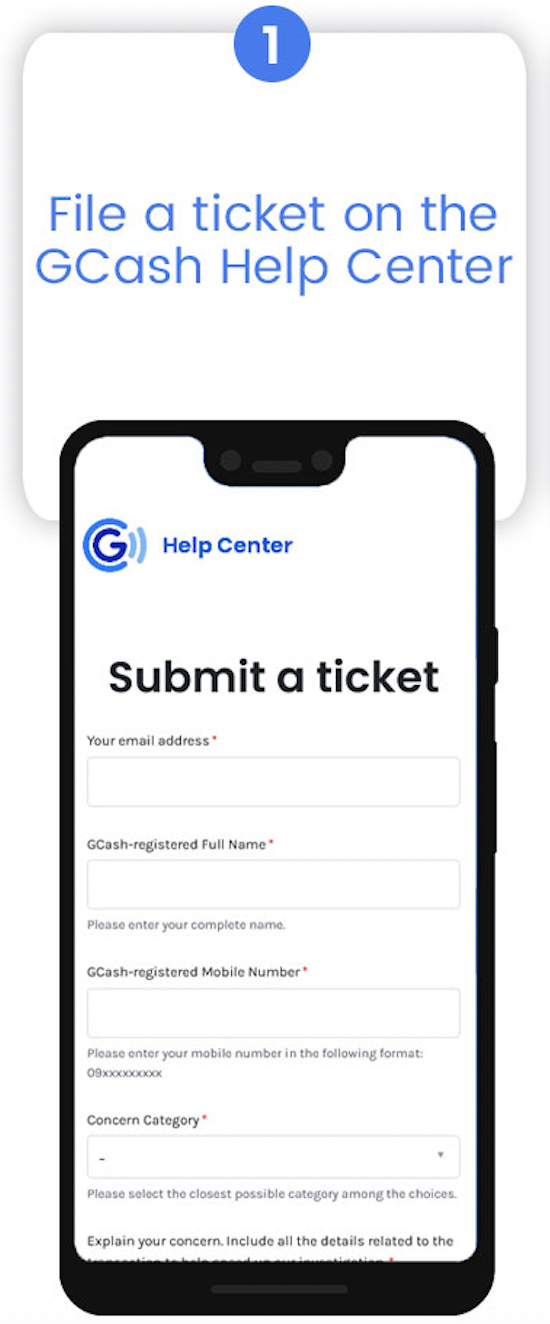 STEP 2: Enter your email address, GCash-registered Full Name, and GCash-registered Mobile Number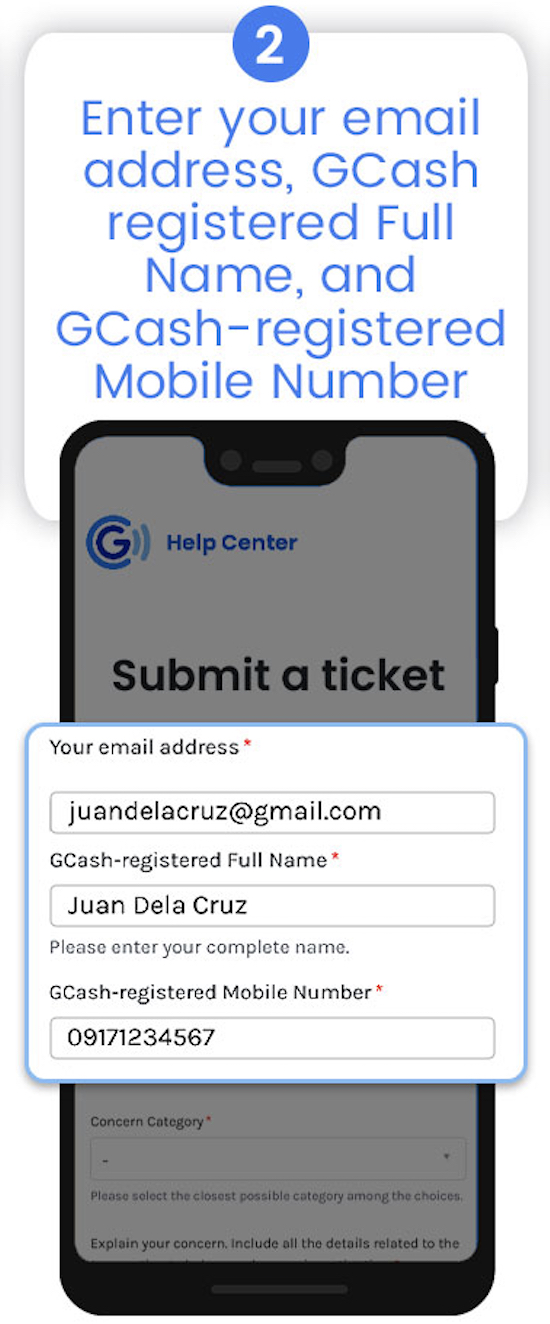 STEP 3: Select My GCash Account as the Concern Category
After selecting My GCash Account, select I was scammed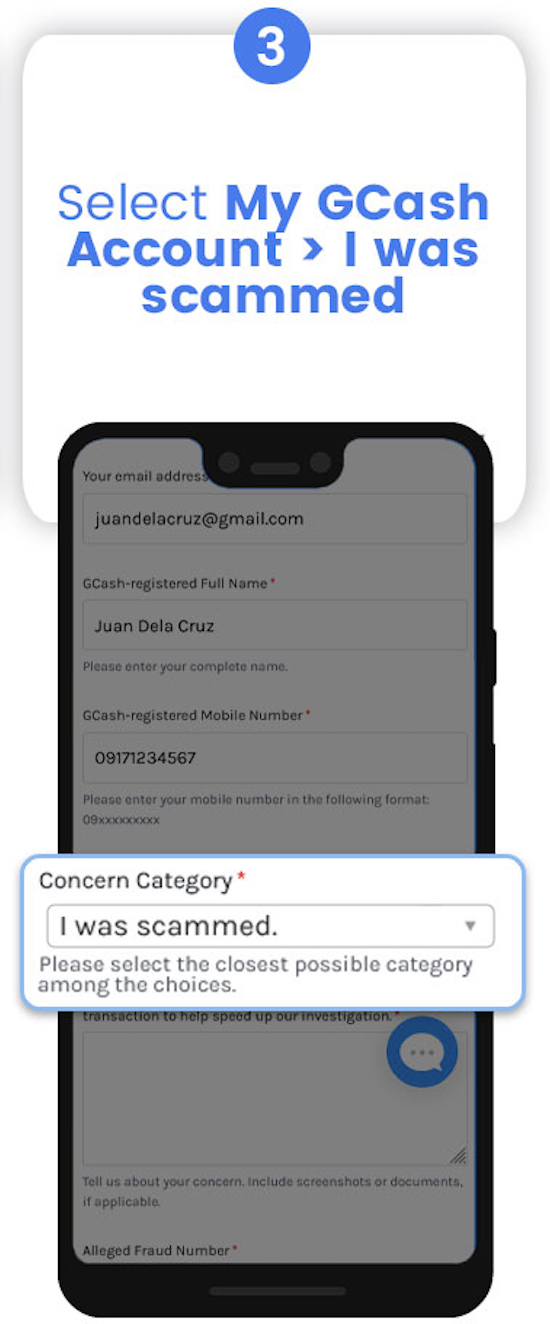 STEP 4: In the Explain your concern field, indicate the following details:
Date and time of the transaction
GCash Reference Number if GCash was used for payment

STEP 5: Enter the Alleged Fraudster's GCash Number in the Alleged Fraudster's Number field. If possible, indicate the Alleged Fraudster's Full Name

STEP 6: Choose the Type of Scam related to the swindling case. Go to How do I Keep My Account Safe to know about the different types of swindling scams

STEP 7: In the Attachments field, attach the following:
Screenshot/s of your conversation with the alleged fraudster
Link and screenshot of the product advertisement
Transaction receipts with the alleged fraudster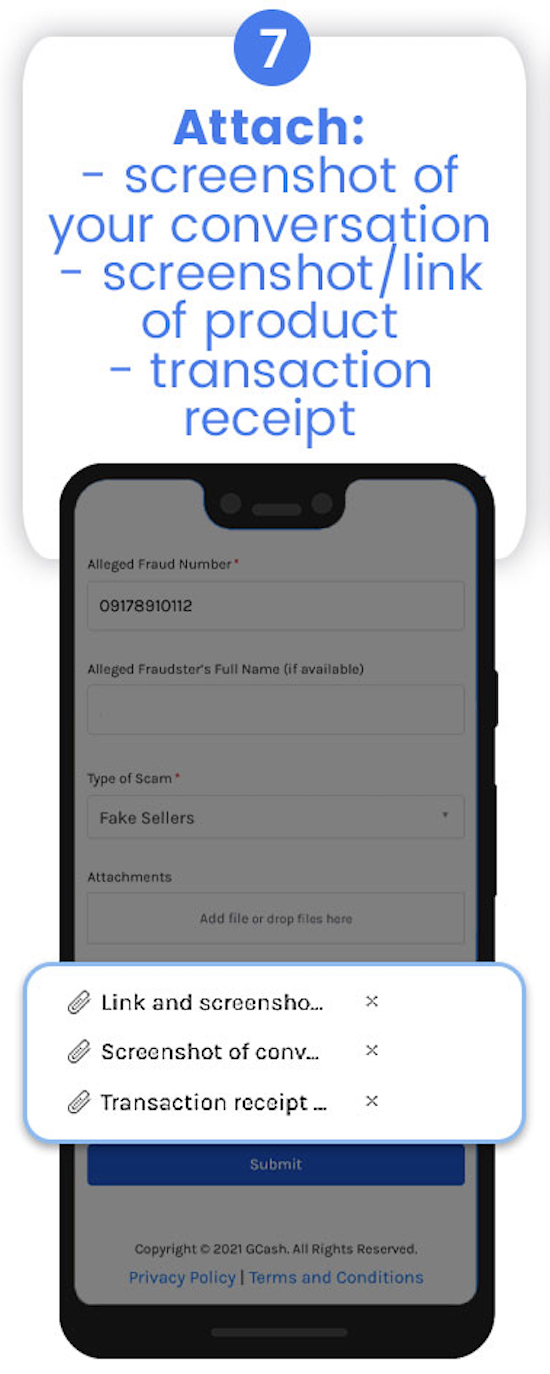 STEP 8: Submit the ticket and check your email for the ticket number that you may use to follow up on your concern through the GCash Help Center.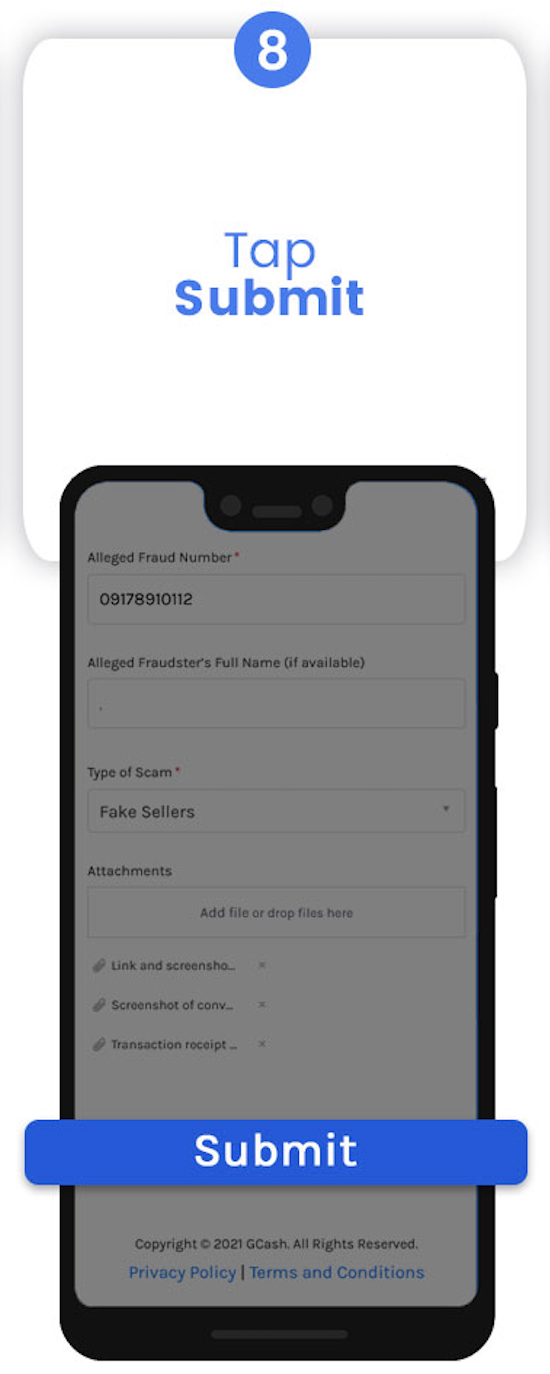 STEP 9: Secure a police report indicating the GCash wallet and name from your nearest police station. You will receive instructions on how to submit the police report to GCash after submitting the ticket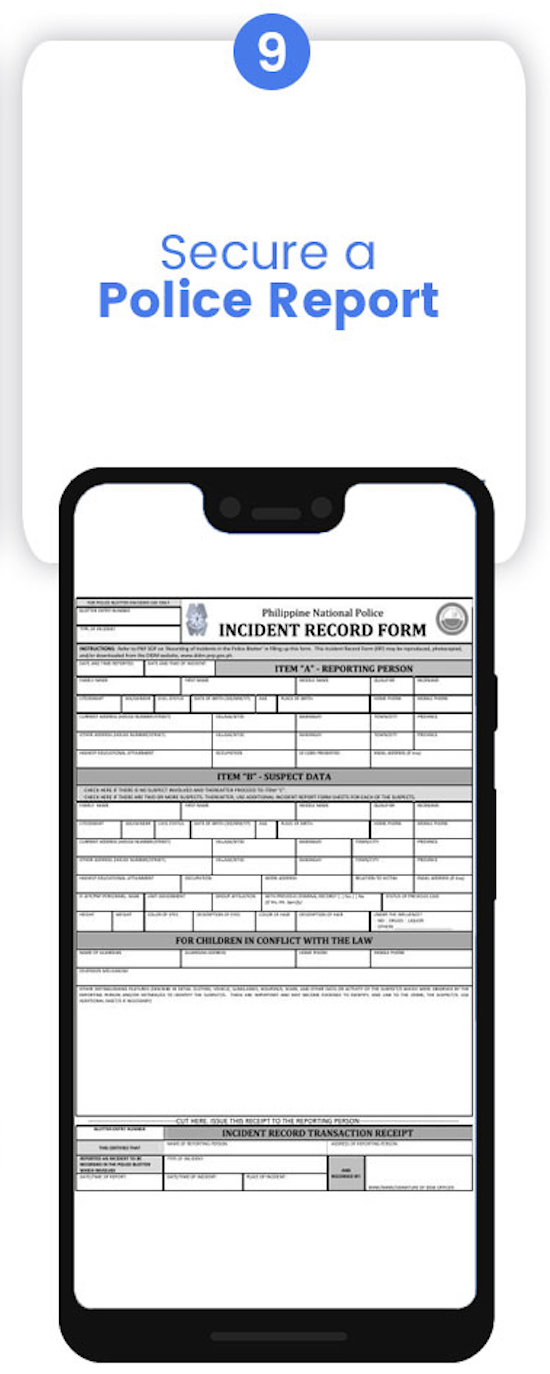 NOTE: GCash will temporarily disable the disputed user's account for 72 hours 
after receipt of the ticket. GCash will permanently disable the account after
receiving the police report.