Jump to:
Review your payment schedule
Once you have purchased using GGives and signed the disclosure agreement, you can no longer change the details of your GGives loan. Your first due date is one month after your purchase date and will follow the same schedule for all months thereafter.
Follow the steps below to learn how to view your Payment Schedule: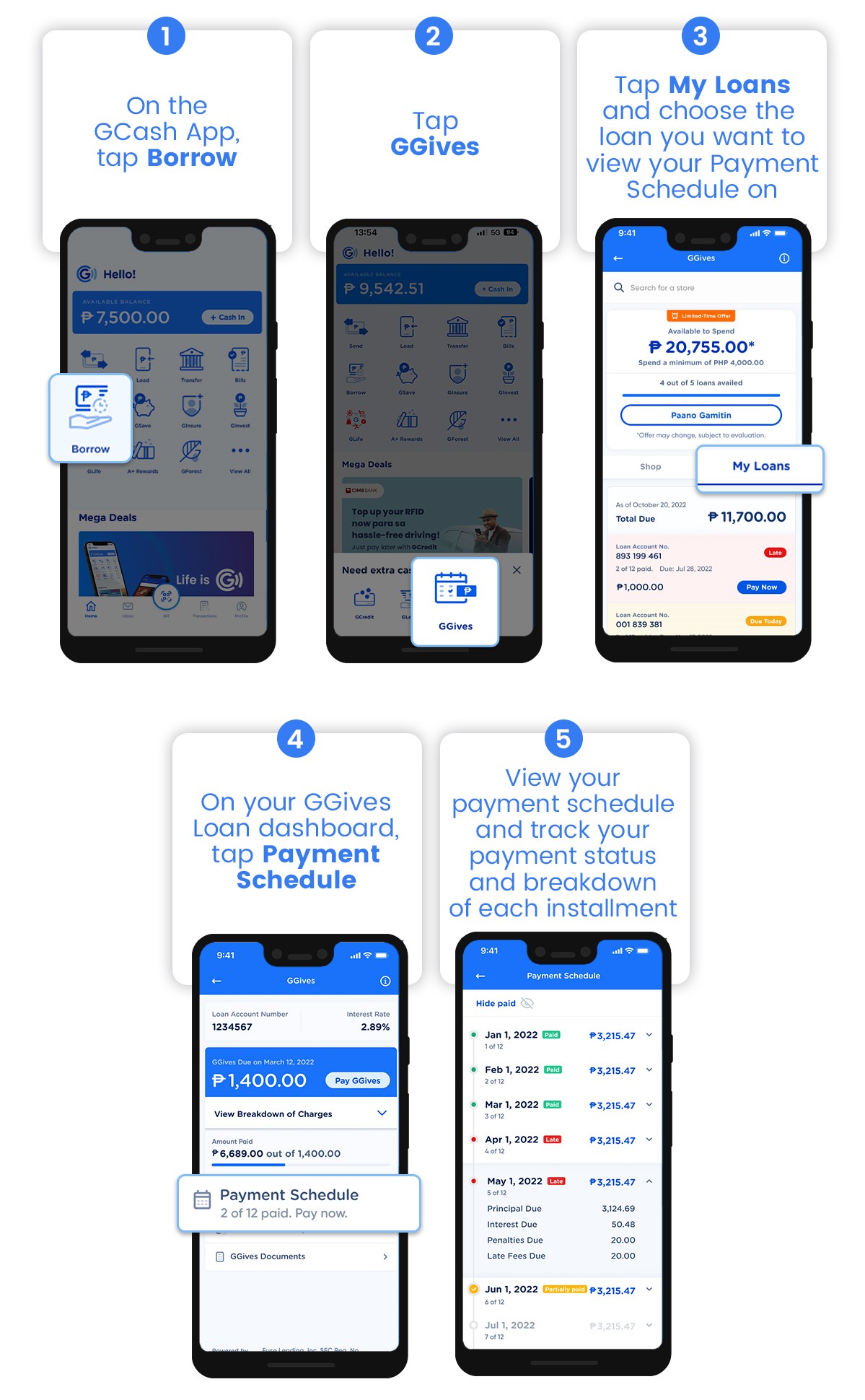 After you make a purchase, you will receive a PDF copy of your disclosure statement via email, which will include your payment schedule.
Settle your GGives dues
Payments through the GCash wallet will be debited in real-time, and the posting of payments will be reflected within 24 hours. Follow the steps below to learn how to settle your GGives dues: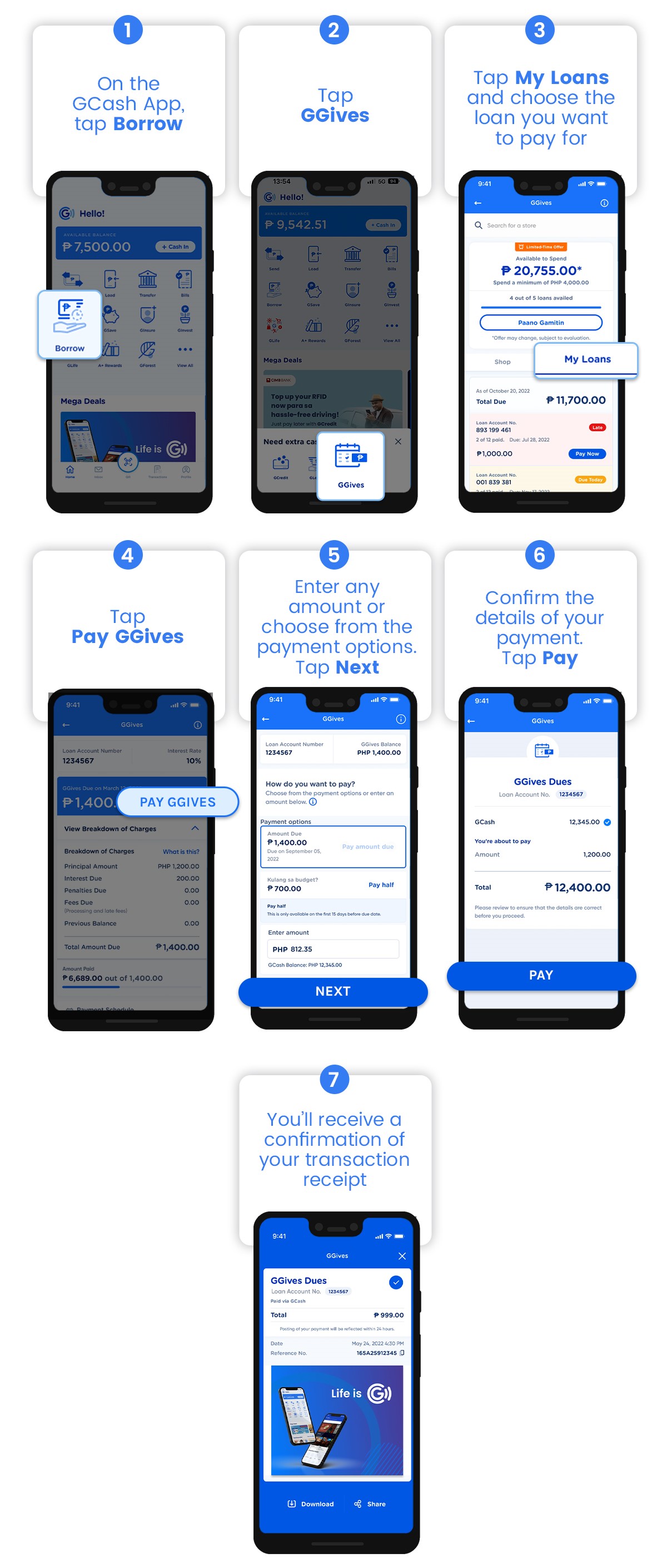 Pay through GCash payment partners
You can also pay your GGives dues via our payment partners. Enter Fuse Lending as the Biller and indicate your Account Number found on your GGives dashboard. Learn how to pay GGives dues through our payment partners below:
Payment Partner
Account Number
GLoan/GGives/ GCredit Account Number
GCash Registered Mobile Number
Note: Posting of payments through offline partners will take place 1 business day after the payment has been made. Pay your GGives dues in advance (before your due date) to avoid incurring late payment charges.
Fully pay for your GGives loan in advance
You can pay your total outstanding balance in advance. When you pay your total outstanding balance early, you will receive the following benefits:
Interest cashback
You will receive an interest cashback based on the number of months remaining on your original payment schedule. Your interest cashback is the total interest balance that is not yet due when you fully settle your loan that you can find in your payment schedule.
You are entitled to receive interest cashback if you fully pay off your loan and any outstanding balance at least one (1) month before your last installment's due date in GGives. Cashbacks are seeded directly to your GCash wallet within 14 business days after the full balance payment has been made. 
Replenish your loan limits
You can replenish your GGives loan amount limit and loan count limit, allowing you to avail of another GGives loan as long as you are eligible.
Note: Any increases in GGives loan limits, and any changes to your loan offers are subject to evaluation.
Chance of better loan offers
You have a higher chance of getting better loan offers on your next GGives loan.
Note: Any increases in GGives loan limits, and any changes to your loan offers are subject to evaluation.
Manage your monthly payments
Settle your dues on time to avoid the following:
Late payment charges - These fees accumulate the longer your amount due remains unpaid after your due date. The late payment charge is equal to 1% of total loan amount + (0.15% * outstanding principal balance * number of days past due).
Lower credit score - Your GCash financial records are shared with other lending or credit enterprises as mandated by the Bangko Sentral ng Pilipinas (BSP). If you do not pay your dues, it may be harder for you to apply for credit/loans in the future, whether GCash loan services or with other lending companies.
To help you manage your GGives loan better, we have the following in place:
Auto-Deduction Feature
Experience easy & seamless loan settlement and avoid additional charges through our auto-deduction payments. Simply cash-in your GGives amount due and we will automatically deduct it directly from your GCash wallet.
Auto-deduction starts on the day of your due date until full settlement of your total amount due. An SMS notification will be sent to you after each auto-deduction to your GCash wallet.
Note: We still highly recommend that you initiate payment of your GGives dues through the GCash app to ensure timely payment.
Payment Reminders
We will be sending you reminders through your registered e-mail address and via SMS to help remind you of your due date. We will also guide you on how to pay for your GGives dues through our email reminders.
Collection Agencies
Our third-party collections partners are available to assist you if you are struggling to settle your loan dues. Our collections agents will remind you of your unpaid dues via phone calls, SMS, and email for you to avoid additional charges to your account.
If you have negative encounters with our collection partners, you may file a report here. Please indicate the date of the encounter, the collection agency's name and their contact number, and attach any screenshots as additional details.
Need more help?
For more questions about paying your GGives dues, you may submit a ticket here.
If you're experiencing an issue with a payment to your GGives account, such as:
Can't pay (error message)
Payment is not reflecting
Paid but I was charged more than once
Charged late payment fee or additional fee after making a payment on time
Haven't received cashback in GGives

Please submit a ticket here so that we can assist you.