GFunds is the investment marketplace feature of the GCash App that allows you to buy, sell, and manage investment products from trusted partner providers.
Eligibility
You are eligible to start using GFunds if you are:
Citizens of the United States of America and dual citizens are restricted from investing in global funds available in GFunds:
ATRAM Global Tech Feeder Fund
ATRAM Consumer Trends Feeder Fund
ATRAM Global Multi-Asset Income Fund
Philippine Stock Index Fund
Register for a GFunds account
During the GFunds application process, you will be required to take the Risk Profile Questionnaire.
Learn about the Risk Profile Questionnaire
The Risk Profile Questionnaire (RPQ) will determine your risk profile as an investor:
| | |
| --- | --- |
| Risk Profile | Description |
| Conservative | Willing to accept lower returns for a higher degree of liquidity or stability  |
| Moderate | Willing to endure short-term loss for the prospect of better long-term growth opportunities |
| Aggressive | Willing to risk more money for the possibility of better returns |
Note: Once completed, you cannot retake the Risk Profile Questionnaire (RPQ) nor change your Risk Profile/Risk Appetite on GFunds until after three years or if you are prompted.
Your Risk Profile/Risk Appetite serves as a guide for investing in different funds. All funds include a Risk Rating that identifies the fund's level of risk. You can still invest in funds that have a Risk Rating higher than your Risk Profile/Risk Appetite. There will only be a waiver prompt on the GCash app that you have to confirm when placing a buy order.
Here are the questions you will encounter in the Risk Profile Questionnaire:
Question
Definition
What is your net worth? (approximate)
Your net worth is the total value of your assets (savings account, checking account, investments, etc.) minus your total debts (mortgage payments, car loans, etc.).
What is the source of your funds?
Your source of funds is where your money for investing will come from. If the source of your funds is not stated, kindly specify under the "Others" checkbox.
What is the purpose of your investment?
The purpose of your investment is the reason why you want to invest. Here are the options available and what they mean.

To prevent capital loss while generating income, - if you want to protect the value of your money from inflation.
To have a regular income source - if you want to regularly earn from investing.
To generate significant capital appreciation - If you want to see your money grow over time.

How much do you see yourself investing?
The amount of money you plan to invest or are comfortable with investing
How frequently do you see yourself investing?
Investing is not recommended as a one-time payment only. It is always best to grow your wealth by investing regularly.

Investment horizon. 

You are investing for a period of...

Investment horizon is the amount of time you'll be keeping your investment in your GFunds account before you convert it to cash.

Risk Scenario: 

How much of a drop/loss in the value of your investment can you accept?

A risk scenario at 0% is considered very low risk, whereas more than 15% is high risk. Anything in between is considered moderate risk.
Your investment principle
Your investment principle will determine the amount of risk you are willing to take for a certain amount of return.
How knowledgeable are you as an investor?
The level of information you have on the act of investing
Which of the following have you invested in?

Cash and deposit products (e.g. time deposit, SDA)
Government securities or corporate fixed-income securities (e.g. T-bills, Retail Treasury Bonds, corporate bonds, commercial papers)
Stocks
Mutual funds or UITFs
Insurance products (including variable unit linked products and pre-need)
Offshore funds (including ETFs, REITs)
Structured financial products
Commodities
Real estate

Do you have a regular liquidity requirement?

 

You have a regular liquidity requirement if you will get cash from your investment regularly.
Follow the steps below to learn how to apply for a GFunds account: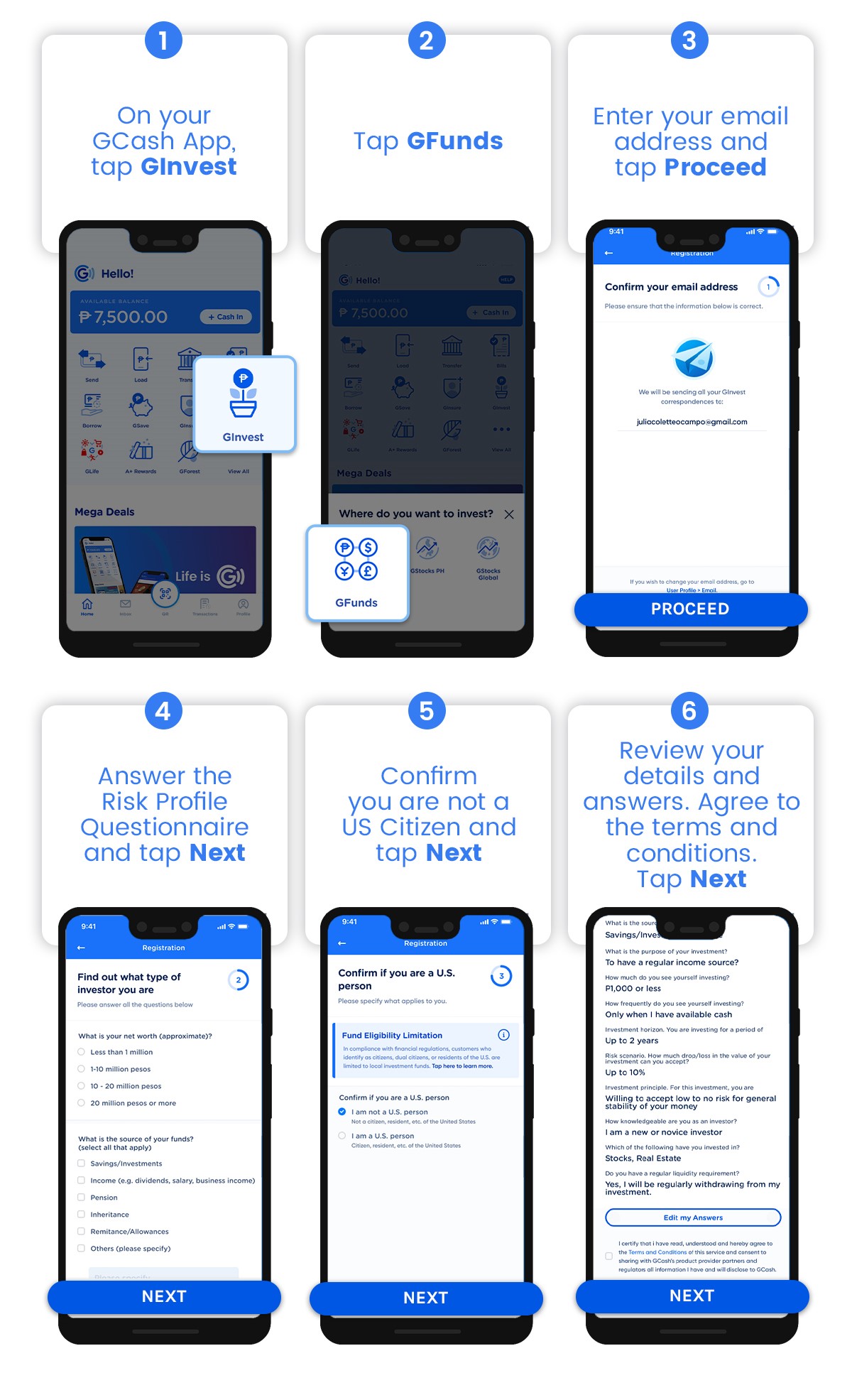 Your risk profile assessment result will be shown, and you will receive an email and SMS once your GFunds registration has been approved.
Approval for your registration can take as quick as 15 minutes. However, it may take up to two (2) business days if our partner provider encounters a problem in their system.
Need more help?
Cannot register to GFunds
If you can't open a GFunds account, ensure that you fulfill all of the eligibility requirements. It may also be due to a temporary system maintenance from our partner providers at the moment of your application.
If you've checked the steps above but still can't create a GFunds account, click here to ask for help so that we can assist you with your registration.