What is an American Express Virtual Pay?
American Express (Amex) Virtual Pay is a free virtual prepaid card linked to your GCash account. This enables you to shop online, from both local and international sites. It also provides added security in the form of a card that won't get stolen, and a security code that is renewed at your convenience.
How do I activate my Amex card?
You need to be a verified GCash user with an active email to apply for an Amex Virtual Pay card.
Once verified, you can proceed with the steps below:
1. Log in to your GCash account then tap on Profile at the bottom right of your screen.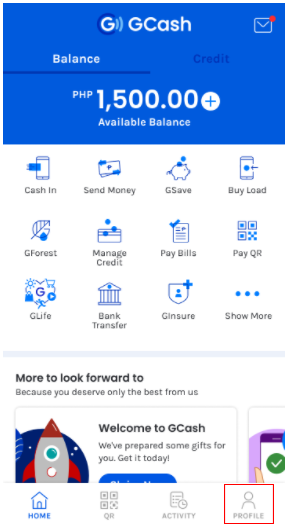 2. Tap on My Linked Accounts > American Express Virtual Pay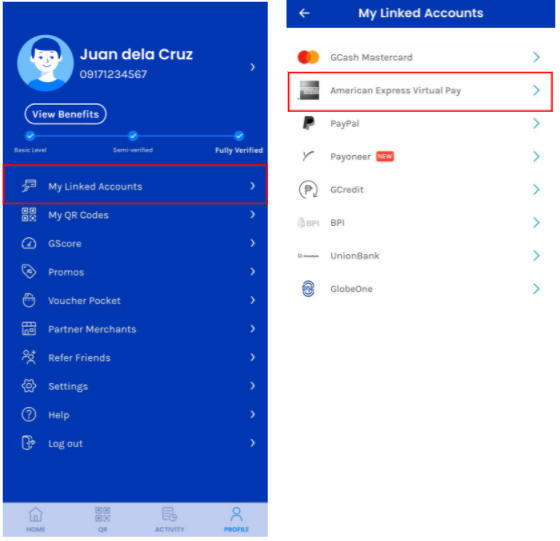 3. For first timers, enter your email address and wait for an SMS confirmation of your registration.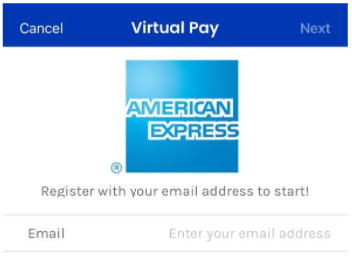 4. For existing AMEX Virtual Pay holders, tap on Get New Code.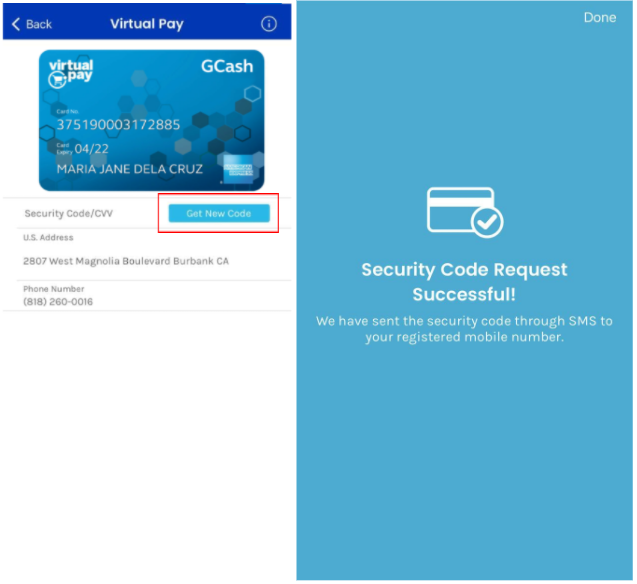 5. Save and take note of your new code to continue using your American Express Virtual Pay.
Frequent Asked Questions
Can I also activate my AMEX Virtual Pay through USSD?

Yes, simply follow the steps below:

1. Dial *143#
2. Select GCash
3. Select GCash Amex
4. Select Sign Up
5. Input email address
6. Click SEND
7. You will receive a verification confirmation SMS and an Eail with GCash American Express details

Can I also request for security code (CVV) through USSD?

Yes, simply follow the steps below:

1. Dial *143#
2. Select GCash
3. Select GCash Amex
4. Select Request/Change Security Code
5. Input email address
6. Click SEND

What else can I do through USSD?

View Account Details
Renew Subscription

Will I receive an actual physical card when I activate my AMEX Virtual Pay?

No physical card will be sent. Instead, your card is embedded virtually onto your account and also visible through your GCash app

If I purchase from a local site in the Philippines, how will I be charged?

You will be charged depending on your orders and shipping rates. You may also have it shipped directly to your local address

Why do I see a US address under my AMEX Virtual Pay?

It is automatically assigned a virtual US address in order to be eligible for AMEX. Deliveries will still be shipped to your nominated shipping address when ordering

What is the maximum transaction amount for AMEX?

Daily total transaction should not exceed Php40,000
Monthly total transaction should not exceed Php100,000

Will my AMEX Virtual Pay expire?

Yes as indicated in the AMEX virtual card
You will need to renew your AMEX Virtual Card to continue using
To renew via USSD:

Dial *143#
Select GCash
Select GCash American Express Virtual Pay
Select Renew Subscription
Select if Charge to Postpaid Bill/GCash
Confirm with GCash MPIN

To renew via GCash App

Open your American Express Virtual Pay inside the GCash App
Click Renew