Buy and Sell Philippine stocks in AB Capital Securities, Inc. via GStocks PH
Note: You can trade any stock actively listed in the Philippine Stock Exchange during PSE Trading Hours (9AM to 12NN, 1PM to 3PM). You cannot place your order through email or through brokers. You can only place an order through ABCSI's Online Trading Facility which will be accessible via GStocks PH.
Buy PH Stocks
Note: For buy orders, your limit will be the amount available in your account balance for buying.
Terms to know before buying GStocks
Limit Order
You may create a Limit Order when you want to set the maximum or minimum price at which you are willing to buy or sell a stock.
Day Order
Buy or Sell Orders created through GStocks PH are all Day Orders, which means that if they did not match or were not filled during the day's trading session, they will expire. Other order types (i.e. GTC, GTM, GTW) will eventually be available.
Limit Day Order

You set a fixed buy or sell price when you create an order, and your orders expire at the end of the day.

Note: This is the only order type offered at the moment.
To learn how to buy PH Stocks with GStocks PH, follow the steps below: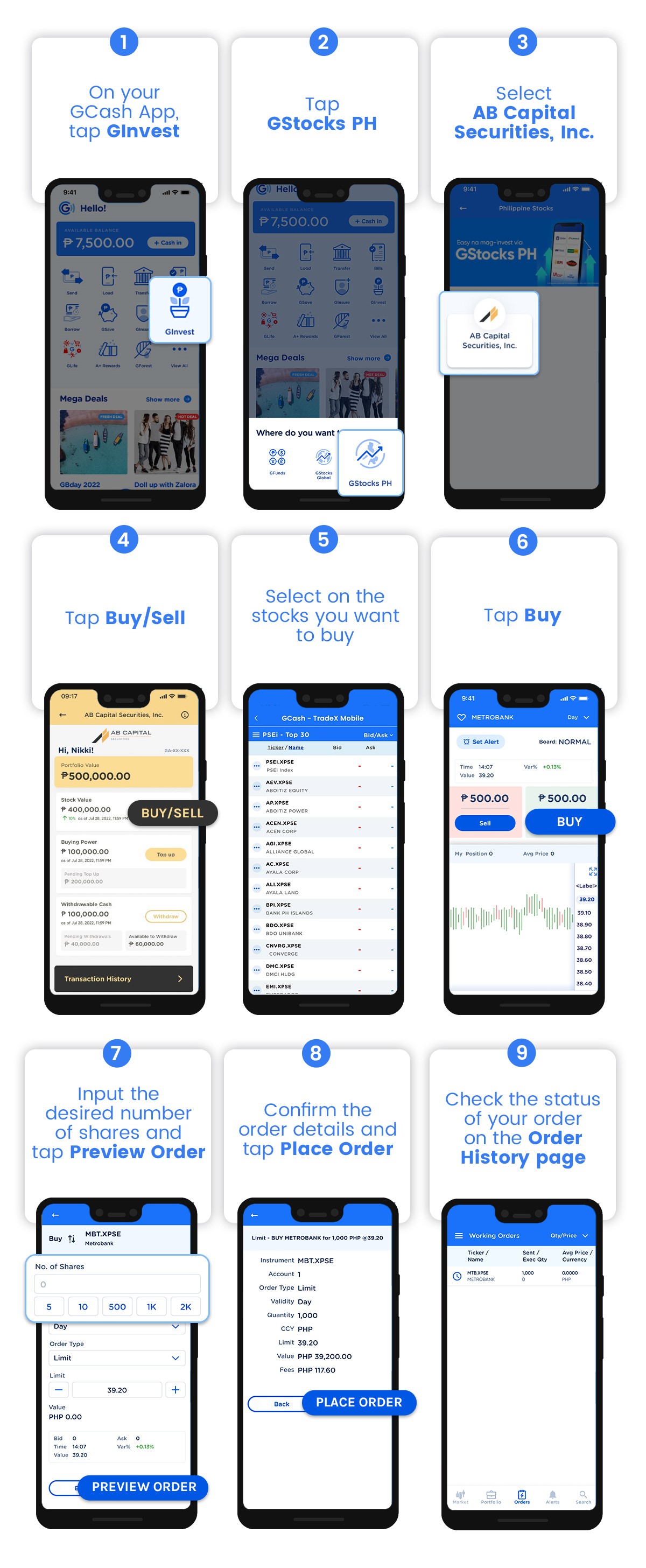 Orders entered electronically are usually posted immediately. However, several factors may affect the execution of your orders:
Delays may occur due to market volatility and high trading volumes. This can result in trade executions at prices significantly different from the quoted price of the stock at the time the order was entered.
The speed of trade executions may also depend on the Internet Service Provider (ISP). Online investors must be aware that ABCSI's Internet service is provided by a third-party ISP. Given this, GCash may not have control over the Internet speed for the transmission of orders. However, it is assured that reasonable care and diligence have been taken by GCash in choosing its ISP.
Timing in the execution of orders may also be affected by market volume, order queues at the PSE, possible delays in order transmissions by your broker, and other systems issues.
Sell PH Stocks
Note: You can only sell stocks available in your portfolio.
To learn how to sell PH Stocks with GStocks PH, follow the steps below:

Billing
| | |
| --- | --- |
| Statement of Account | AB Capital will send you a monthly Statement of Account (SOA) at the end of each month via email. |
| Transaction Invoices | AB Capital will send you the invoices of your transactions for the day at the end of each trading day via email. |
| Credit Memos | AB Capital will send you credit memos (CMs) as applicable. |
For any concerns regarding your SOA, Transaction Invoices, and Credit Memos, please reach out to gcashcs@ABCapital.com.ph.